This post may contain affiliate links, meaning if you book or buy something through one of these links, we may earn an affiliate commission at no additional cost to you. Learn more
Keep hunger at bay on the road without having to spend valuable time and money at diners or malls with these road trip snacks, ideal for energizing you in a convenient and tasty way.
Road Trip Snacks
Savory Road Trip Snacks
1. String Cheese
Check Price on Amazon
Pre-cut and individually wrapped, string cheese provides you with calcium and protein, along with that comforting cheesy goodness so many of us love.
Once you're full, you can easily stuff the rest of the package inside your backpack, and wait until the next rest stop. Plus, it's a snack that makes minimal mess.
To take it to the next level, you could even use string cheese in a grilled cheese sandwich if your accommodation has a grill or stove.
2. Pretzels
While soft pretzels tend to lose their oomph pretty quickly, their hard-baked cousins are a great on-the-go snack.
They offer the same satisfactory crunch as crisps, but they're made from baked dough rather than deep-fried potato. Once open, they tend to remain fresh for longer, even in humid weather.
Check mini pretzels price on Amazon.
3. Saltine Crackers
Check Price on Amazon
Saltine crackers are a very diverse snack for road trippers. Their rich flavor allows them to be eaten on their own, or you can top them with practically any spread.
Saltine crackers are also remarkably easy to find around the world. This means that no matter where you go, saltine crackers will give you an emergency pick-me-up (especially if your stomach is still adjusting to the local spices).
4. Bagel Chips
Check Price on Amazon
Just before a road trip, it's always a good idea to raid your pantry, checking for anything that may spoil by the time you return. If you have an open bag of bagels, there's no need to stuff yourself and finish them right away.
Instead, slice your leftover bagels as thinly as you can. Then, brush them with olive oil and the spice mix of your choice before sticking them in your toaster oven for 5 minutes. Let them cool off, and store them inside a Ziploc bag to keep them fresh.
Alternatively, you can buy bagel chips, which come in many delicious flavors, including sea salt, roasted garlic, and cinnamon raisin.
5. Spicy Pistachios
Check Price on Amazon
Take a bag of nuts up a few notches with some spicy pistachios. Pistachios have a deeper taste than other nuts that blend very well with cayenne. This road trip snack is both filling and flavorsome, and only a handful can stave off hunger for long periods at a time.
Sweet Road Trip Snacks
6. Bananas
Bananas are tasty, filling, and come with their own biodegradable packaging. Sweet and healthy, the extra potassium will help maintain your fluid levels.
If you want to bring the indulgence up a notch, just spread a bit of peanut butter or Nutella on top. Just make sure you have a sealed bag for the peel!
7. Trail Mix
Trail mixes are a flexible, low-effort way to build and customize your snack. As their name indicates, they were invented to be carried along on hikes.
A healthy trail mix often combines a type of popped grain (like roasted oats), a type of nut, and some chopped dried fruit. These three ingredients will provide fiber, oils, and carbs, which is precisely what you need to keep you going.
8. Dark Chocolate-Covered Almonds
Check Price on Amazon
Dark chocolate-covered almonds feel as gourmet as chocolate-dipped strawberries but need no refrigeration. Dark chocolate is also a healthier alternative to milk chocolate.
Almonds are full of healthy fats, and the human body digests them slower than other foods, keeping you full until you arrive at the next roadside diner or stop.
9. Chocolate Chip Cookies
Check Price on Amazon
Chewy, crunchy, and indulgent, homemade chocolate cookies also carry a comforting, homey aroma. The store-bought kind will last longer and will provide a budget-friendly way to round up a larger meal or to eat with your coffee in the car.
10. Homemade Muffins
Muffins are not cake, but they can feel pretty close. Plus, they are much easier to make and require no icing, making them more resilient to the heat. Just wrap each one with plastic wrap and place them in a paper bag or plastic container. Reach for them as needed, either for breakfast or whenever the sights make you postpone dinner.
11. Granola Bars
Check Price on Amazon
Granola bars are basically a combination of nuts or whole grains pressed together and bound with some honey, and the bars are full of fiber.
The store-bought kind usually come individually wrapped, so be sure to pack several into your glove box or backpack. If you pass by a store or need to complement your breakfast, combine them with a fruity yogurt cup.
Healthy Road Trip Snacks
12. Olives
Check Price on Amazon
Olives keep well under all weather conditions and are easy to grab in small bites. They are also a wonderful source of unsaturated fats (the good kind), with a little bit of fiber on the side. Black olives, in particular, have a deep umami flavor that will help you feel fuller faster.
13. Nuts and Seeds Mixes
A nuts and seeds mix provides a slimmed-down alternative to trail mixes that does away with most of the sugar – but offer a wider variety of savory flavors. This will help you steady your blood sugar levels and prevent any abrupt cravings later that day.
To make your own nut mix, you can just chop and mix three or four different types of nuts together. If you want more variety, try lightly roasting some pistachios or cashews on cayenne, pepper, garlic powder, or sea salt. Then, combine them with peanuts, almonds, sunflower seeds, or pumpkin seeds.
14. Hummus and Pre-Cut Veggies
Hummus doesn't need to be part of a sandwich or eaten as part of an appetizer platter. Just pre-cut a few carrots and celery sticks and pack them with a container of either homemade or store-bought hummus.
Complete with a drizzle of lemon or lime, this combination will provide you with a fulfilling mini-meal with very few calories.
15. Greek Yogurt and Berries
Greek yogurt keeps well, and it's easy to find in single-serving containers. Opt for a sugar-free version and top it with a few chopped berries to add some natural sweetness.
16. Frozen Grapes
Sweet, refreshing, and full of water, grapes, unfortunately, won't keep for long periods, particularly in a hot car. If you are willing to prep ahead, frozen grapes are an excellent and cooling alternative.
Just freeze them the day before departure and place them in a tight-lidded container. If you place them in your cooler, they will last for several days next to your drinks.
17. Kale Chips
For many, snacking is synonymous with grazing something savory and crunchy. Kale chips offer a way to achieve the same sensation without a carbohydrate overload.
To make your own, simply cut up a few kale leaves sprinkle them with olive oil, sea salt, and pepper. Then, bake them on medium-high heat for 10 to 15 minutes. Make sure you let them cool completely before placing them in an airtight container: this will keep them crispy for longer.
Road Trip Snacks Great for Kids
18. Peanut Butter and Jelly Sandwiches
The classical PB&J sandwich is easy to make from cheap ingredients. If you'd prefer a slightly less-sugary alternative, replace the jelly for think banana slices: just make sure you keep the sandwiches away from any bugs!
19. Guacamole and Veggie Slices
Guacamole is perhaps the easiest way to eat vegetables while still feeling like you are having a "party snack."
However, the usual pita or tortilla chips can quickly get messy in a moving vehicle – which rarely combines well with kids and clean upholstery. To counter this, replace the chips with some pre-cut veggie slices or carrot sticks.
Read more: Guacamole Recipe
20. Dehydrated Fruit
Check Price on Amazon
Fruit can be challenging to store in the summer, especially on a long car ride. If you already have kids with you, you may not want to add fruit-washing stops to your logistics. Instead, pack some dehydrated fruit, such as apple or mango slices, to ensure everyone gets their day's worth of vitamins.
Be conscious of the fact dehydrated fruit will shrink, as the amount of fruit your children are actually consuming can be deceiving if you don't keep count.
21. Oatmeal Energy Balls
If your kids are the kind that need a little convincing when it comes to healthy food, why not pack all nutrients into a ball and disguise it as a sweet treat? You can quickly prep ahead a few oatmeal energy balls, and they need no baking and no refrigeration.
Take equal parts rolled or instant oats, chocolate chips, chopped nuts, and peanut butter. Then, add a little bit of honey or thick maple syrup, and mix them until you get a rough paste.
Use an ice cream scoop to turn them into bite-sized balls. You can even sprinkle them with some chia seeds for extra nutrients.
22. Popcorn
Check Price on Amazon
Popcorn is an easy way to evoke a fun and relaxing atmosphere. Plus, you can tweak this snack with a near-endless assortment of spices and seasoning salts.
To make popcorn on road trips, you can use the old microwavable packs and simply keep them closed until it's time to eat. If you make popcorn on a metal pot, just transfer it to a paper bag and let it cool completely before closing it.
23. Smoothies
Smoothies count as both a snack and a drink, and depending on what you make them with, they can pack as many greens as a side salad.
Incredibly nourishing and refreshing for hot summer rides, you can prepare smoothies are home by blending crushed ice with chopped fruit, leafy greens, and a dash of milk.
Filling Road Trip Snacks
24. Turkey Avocado Roll-Ups
Turkey and avocado roll-ups are a great, cost-effective option whenever you feel like munching salty snacks isn't going to cut it.
Prepare this delicious snack by slicing the avocado as thinly as you can, then drizzling it with salt and lime juice to not only add flavor but also help preserve it.
Spread it over a few slices of turkey ham or deli meat. You can also add a thin layer of cream cheese or some olive slices. Roll it all up and hold it together with a toothpick before packing it.
25. BLT Sandwiches
BLT sandwiches sit in between a hearty snack and a light picnic lunch. They are easy to make and use ingredients you'll often have in the fridge.
Place a few slices of crispy-fried bacon on a bed of tomato and lettuce leaves. Put everything between two slices of lightly-toasted bread (whole wheat Pullman loaves work great for this), and wrap it with aluminum foil for a classic sandwich-themed road trip snack.
26. Ham and Cheese Sliders
These thick mini sandwiches can pack a lot of protein while remaining easy to manage. Plus, they provide a great way to use day-old dinner rolls without feeling dry.
For traditional ham and cheese sliders, slice a few dinner rolls in half and stuff them with several layers of Swiss cheese and honey-glazed ham. Then, toast them until the cheese melts. If you have some extra prep time, brush the rolls with garlic butter before toasting them.
27. Apple Slices and Peanut Butter
Traditional and straightforward, the refreshing sweetness of apples has always been a classic combination with peanut butter. Slice the apples before you leave home, pack them in a Ziploc bag, and dip them directly into the peanut butter jar as soon as hunger strikes.
28. Protein Bars
Check Price on Amazon
If your trip includes a demanding hike or cycling trail, then you will also need a way to stay energized on the go. Protein bars were made for this: they provide a lot of energy and protein in a sweet, granola bar-like snack. In addition to a vast catalog of flavors, you can also find gluten-free, vegan, paleo, or keto-friendly protein bars.
Mess-Free Road Trip Snacks
29. Beef Jerky
Check Price on Amazon
These classic stripes of dehydrated meat contain a lot of protein, but most of the fat and cholesterol drips away during the dehydration process.
They won't spoil during long summer trips, they won't melt, and you won't need to prep anything. Most beef jerky even comes individually wrapped, so it's just a matter of opening a packet and enjoying its intense, savory flavor.
30. Chia Pudding
Chia pudding is one of the easiest and most resilient "desserts in a jar." You will need to prep it the day before departure. First, place half a cup of Greek yogurt, a tablespoon of cocoa powder, two tablespoons of chia seeds, and one scoop of protein powder inside a small mason jar.
Mix everything thoroughly and ensure the yogurt completely covers the chia seeds. The chia seeds will have turned into a sweet, soft gel by the following day.
Read more: 7 Chia Pudding Recipes for Quick and Nourishing Snacks To Go
31. Pre-cut Fresh Fruits
If you just want to keep everything natural and easy, simply carry a fruit bowl in a mason jar. You can adapt this to any budget by using fruits on sale or in season.
Pre-sliced apples or strawberries, tangerine slices, chopped pineapple, and even mango pieces are all great choices, among many others. Carry a small spork or a toothpick with you to eat on the go.
32. Baby Carrots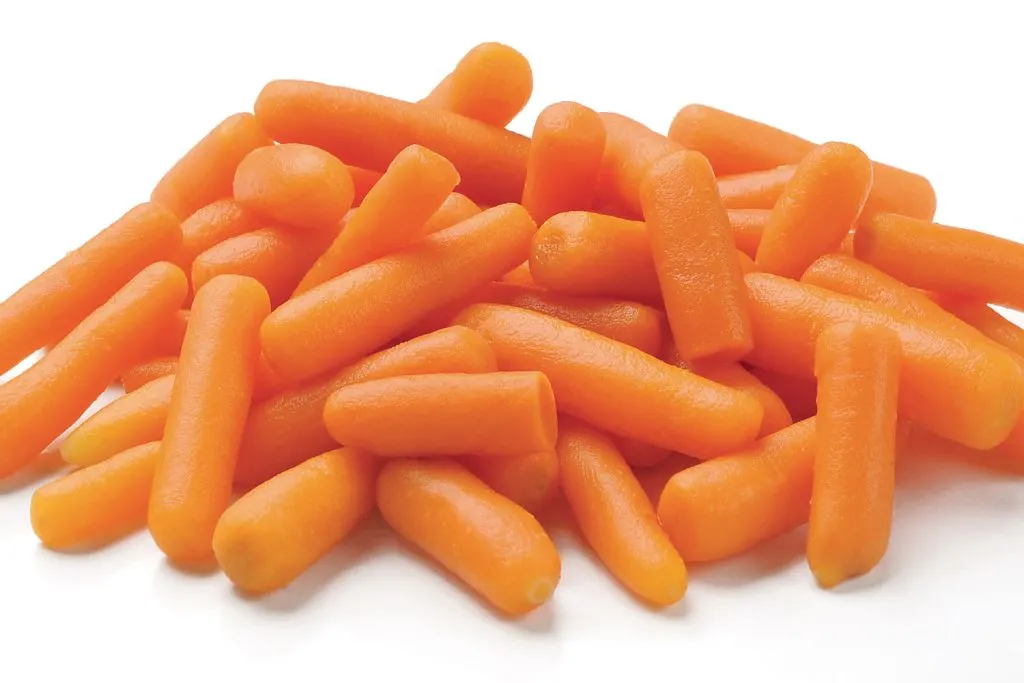 Chopped or sliced carrots require prepping and can be tough and lacking in flavor. On the other hand, steamed baby carrots are already bite-sized, and they tend to be sweeter and more tender.
33. Roasted Edamame
Check Price on Amazon
Most of us are used to thinking of edamame as a salad or soup ingredient. However, if you roast it instead of steam or blanch it, you will get a crunchy snack that doesn't need to be refrigerated or heated. Sprinkle it with a pinch of seasoning salt, and enjoy a healthier alternative to roasted peanuts.
Road Trip Snacks Summary
A car full of hungry and agitated people is the last thing you want when you're still many hours away from your destination, not to mention the dangers it can pose to people with conditions or certain dietary requirements.
A little planning and preparation, accompanied by some of these creative and filling road trip snacks, will help everyone in the car stay energized, safe, and keep the hunger in check, allowing you all to enjoy the wonders of road-tripping.
You Might Also Like to Read
Save and Pin for Later
Planning a road trip in the near future. Be sure to keep these road trip snacks for safekeeping, by saving this article to one of your Pinterest boards.
Author: Dale Johnson is a content writer, designer, and strategist, who loves to explore his native United Kingdom by car with his wife on evenings and weekends.
Images licensed via Shutterstock