This post may contain affiliate links, meaning if you book or buy something through one of these links, we may earn an affiliate commission at no additional cost to you. Learn more
Take your coffee break to a whole new level with my café bombón recipe, bringing the richness of espresso and the sweetness of condensed milk together in a marriage of sheer indulgence.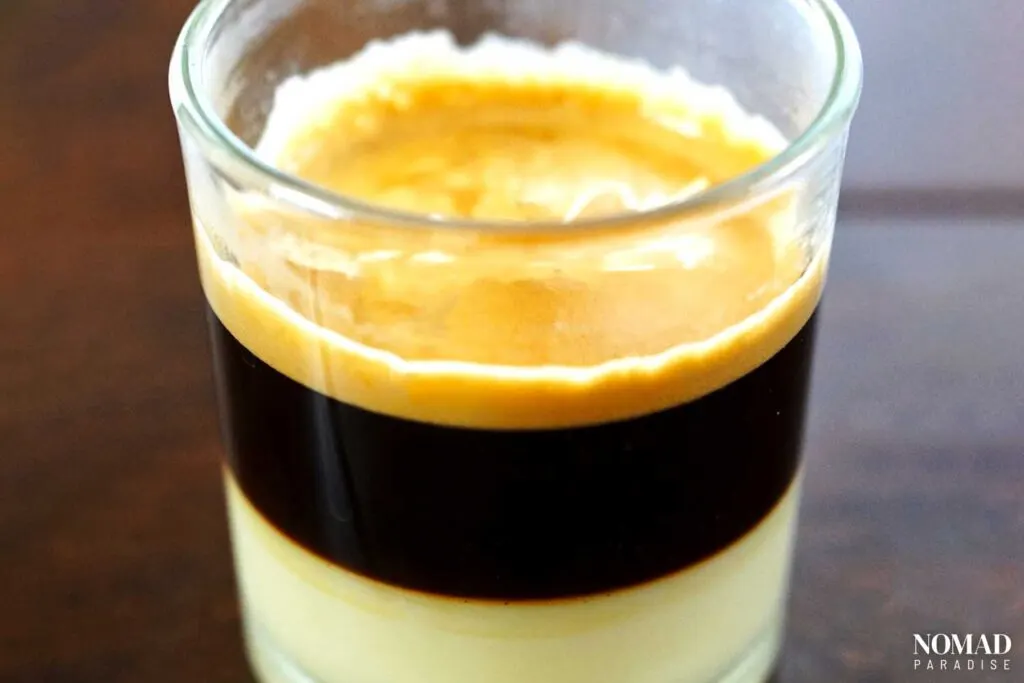 Café Bombón Recipe
What is a Café Bombón?
While café bombón was believed to have first found popularity in Europe via Valencia, Spain, the concept of coffee and condensed milk served together is very much a staple of Asian cuisine.
Coffee drinks served this way have been enjoyed in Malaysia, Singapore, and Thailand, among other places, for generations, with different names and slight variations.
It is widely believed whoever started the café bombón got this idea from Asia, then switched ground coffee for espresso, to tailor it more to European taste.
The traditional ratio of coffee to condensed milk is 1:1, although baristas and bartenders will tweak it to personal preference.
Finally, while the iconic shot of the café bombón is with those bands of milky white sweetened condensed milk and dark brown espresso, with a lighter brown creamy top, you don't actually drink it like this. This is more for show, and a great café bombón will actually be stirred as the coffee is being added.
Recipe Ingredients
Simple to make, you'll only need the following ingredients to make your own café bombón:
Condensed Milk – 2 tbsp condensed milk
Espresso – 1 fluid ounce of espresso
Equipment
Naturally, if you're a seasoned espresso connoisseur, no doubt you'll own tried and trusted method of making espresso at home. However, if you're new to the world of coffee and espresso drinks, you're going to need the right equipment.
Espresso Machine – We have this beautiful De'Longhi La Specialista Arte espresso and coffee maker at home and use it to make not only our morning coffees but also any coffee-based recipes we publish.
While an espresso machine is both a sizeable and high-value purchase, if you love coffee and want to recreate both the taste and feel of artisanal coffee shop coffee at home, this is such a great way to do it.
There's a real therapeutic quality, too, to the process of making an espresso. We plan we publish more coffee-based recipes in the near future, so be sure to keep checking back to see our latest posts.
AeroPress – My husband and I traveled with an AeroPress when we lived abroad full-time, and it was how we started most of our mornings. It's simple to use, and as long as you're happy to buy or travel with ground coffee, you can have your morning brew ready in minutes, if not less.
French Press – If you need a less expensive and more practical method for a smaller kitchen, get yourself a stylish French press to brew your espresso to add it to the condensed milk.
Also, because condensed milk generally comes in a can/tin, make sure you have a really good can/tin opener at home.
Step-by-Step Instructions
Step 1 – Add two tablespoons of condensed milk to the serving glass/cup.
Step 2 – Make the espresso and pour it over the condensed milk. You can serve it to your guests unstirred, so that they can admire its appearance and bands, then give them a spoon to stir it with themselves.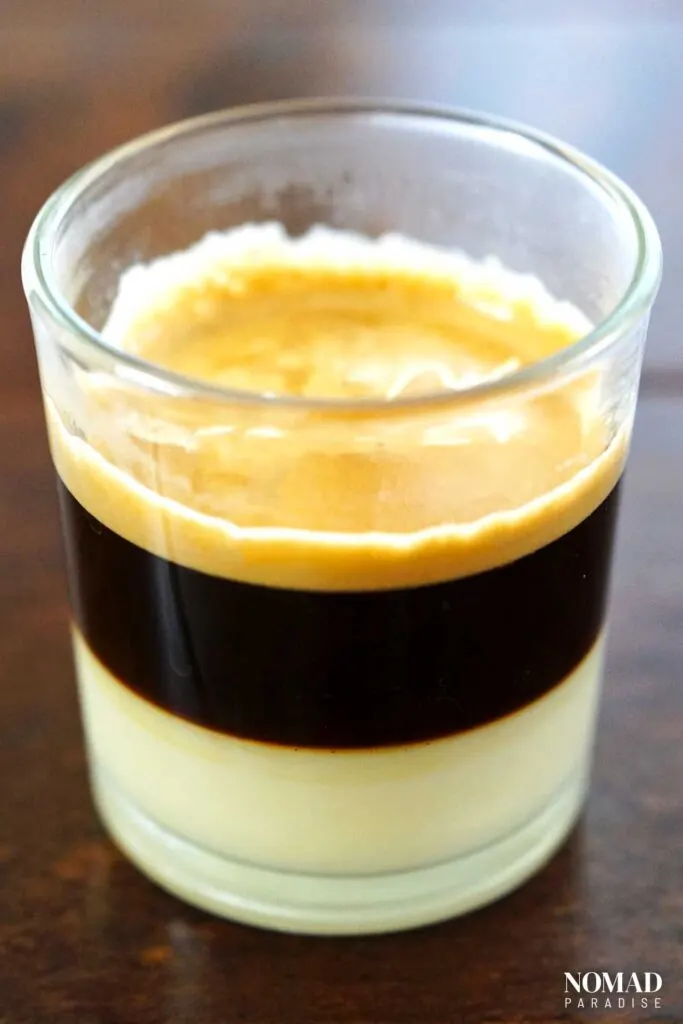 Step 3 – Just before drinking it, mix it.
Café Bombón Recipe Card
Ingredients
2 tbsp condensed milk
1 fluid ounce of espresso
Instructions
Add two tablespoons of condensed milk to the serving glass/cup.
Make the espresso and pour it over the condensed milk.
Just before drinking it, mix it.
Recommended Products
As an Amazon Associate and member of other affiliate programs, I earn from qualifying purchases.
You Might Also Like to Read
Save and Pin for Later
Keep my sweet and simple Café Bombón recipe for safekeeping by pinning it to one of your Pinterest boards.