This post may contain affiliate links, meaning if you book or buy something through one of these links, we may earn an affiliate commission at no additional cost to you. Learn more
Whether you're planning a week away in the sun or embarking on a backpacking trip to far and exotic lands, these solo travel tips will go a long way to keeping you safe, connected, and confident.
Traveling alone can be fun, exciting, and truly fulfilling, but it isn't without its challenges. Use our guide to help you become a far more savvy and aware traveler, helping you minimize the risk and maximize your experiences.
Solo Travel Tips
Solo Travel Tips for Staying Safe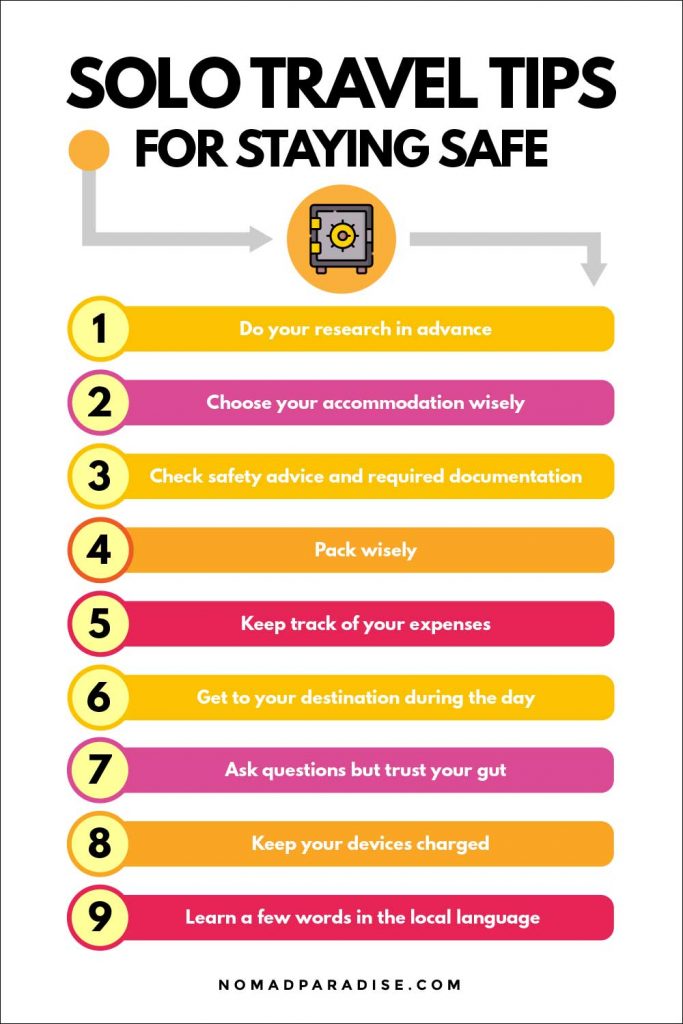 1. Do your research in advance
Doing some research on your destination before your trip is always a good idea, but when traveling alone, it's even more important. While you don't need to plan every single detail of your trip, it's good to have a road map and know a little about the basics.
Check what is the best way to get around, which are the best neighborhoods (and the ones to avoid), and if there are any local customs you need to be aware of, like tipping at a restaurant or wearing certain clothes. A little bit of research will spare you time during your trip, money, and possibly some awkward situations.
A travel planner printable is a great way to make sure your solo trip is well-planned and nothing important is overlooked.
2. Choose your accommodation wisely
This will vary based on your needs but make sure to take all aspects into consideration. It's often better to pay a little extra and be closer to the center – if you're visiting a city – or to a public transportation station.
This is especially true if you aren't spending much time in the place and want to make the most of it. A little research on the best neighborhoods to stay in may spare you a walk through unsafe streets late at night as you're going back to your room.
Read more: Best Tools for Booking Accommodations
3. Check safety advice and required documentation
Checking safety advice is especially important if you are visiting at-risk places. Usually, your country's ministry of tourism or the equivalent body of government is the best source of information regarding places to avoid or to pay attention to.
Furthermore, you may want to check if you need to prepare additional documentation like proof of vaccination, and nowadays a Covid test.
If you're planning on visiting multiple destinations, it's a good idea to research everything in advance, so you don't get stuck in one place due to a lack of proper documents.
4. Pack wisely
There's a fine line between preparing for any kind of circumstance and overpacking. When traveling solo you want to find the right balance.
This goes hand in hand with the research you should do before your trip. Pack the right clothes depending on the climate, making sure you have layers but trying not to bring too many. If you're going on a longer trip, you can always wash some of your clothes along the way.
Make sure to bring a small first aid kit and all your medicines, if you take any. Remember all the necessary documents, your devices, and charging cables. Check if you need to bring a power adapter as some countries may have different plugs than the ones in your country.
Other than that, don't stress over the small things. If you have your money, your documents, and anything fundamental for your survival, you're good. You'll always be able to buy toothpaste in case you forgot it.
It can help to make a checklist that you can consult every time you're packing for a trip to make sure you don't forget anything important.
5. Keep track of your expenses
This is especially important if you're traveling on a budget, but always something to take seriously. You may travel to a country that has a different currency, and it may not be that easy to always remember the conversion rate. If you don't want to overspend, keeping track of your expenses is very important.
You can estimate how much you will spend on accommodation and transportation before your trip, and set a budget for all the other expenses. At the end of the day, take note of what you spent so you can adjust along the way if needed.
Read more: Hacks & Tips for Traveling on a Budget
6. Get to your destination during the day
This may not always be possible, but it's useful to try and arrive at your destination before it gets dark. Apart from the safety reasons, this is also useful so you can get acquainted with the neighborhood you're staying in. You can take note of supermarkets or other shops you may need, and get familiar with public transportation or other ways of getting around.
If you're staying in a hostel, this will also allow you to choose your bed if possible and settle in without having to do everything in the dark. Furthermore, if you arrive during the day, you'll likely be able to use public transportation to reach your accommodation, instead of having to hail a cab.
7. Ask questions but trust your gut
Asking locals for directions or advice is a good way to get more in touch with the local culture. You may also discover new places this way, or even learn more about the place you're visiting if you encounter people who are willing to chat.
However, it's good to learn to also trust your gut. If someone gives you some advice you don't trust or directions through a dodgy part of town, listen to your instincts. While it's good to be trusting, it's also good to stay alert. As they say, better safe than sorry.
8. Keep your devices charged
Disconnecting can be great but when you're alone, you want to always be able to make a phone call in case of emergencies. Or even just check Google Maps if you're completely lost and there's no one to ask for directions.
Make sure to always charge your devices whenever you have access to electricity, and bring a power bank with you in case of emergency. This may sound like common sense, but it's easy to get caught in having fun and forgetting to charge your power bank.
And you don't want to find yourself alone late at night, in an unknown part of town and with no idea of how to get back to your accommodation. Getting lost can be great, but having a safety net is necessary.
9. Learn a few words in the local language
Although you can get around speaking English in most countries worldwide, it doesn't hurt to learn a few words and sentences in the local language.
Try to at least learn the greetings and some basic sentences. This isn't just useful in case someone doesn't speak English, it also shows you're interested in knowing more about the local culture. Even just greeting locals in their language can help you better connect with them, as they usually appreciate the effort.
Solo travel tips for how to meet people when traveling solo
10. Stay in hostels
If you've never stayed in a hostel, it can feel awkward in the beginning, but this is one of the best ways to make friends while traveling alone and meet other single travelers.
Apart from having to share the space with other people, in many hostels, you may also get to take place in events and parties where you'll find other travelers like you.
If you don't know how to start a conversation with strangers, just saying hello and asking them where they come from can be a great start.
11. Join group excursions
Look for organized day trips and excursions for groups. You'll likely find them almost anywhere you go just by taking a walk in the city center or heading to the tourist information center. You can also ask your hotel reception if they organize any excursions or have contacts for an organized tour they recommend.
Apart from being a great way to meet new people, it's also an opportunity to see places that are otherwise harder to reach on your own.
12. Check local events
Do some research on any local events like live music or fairs. Not only will you have the opportunity to meet new people, but you will also get to mingle with locals and know more about local customs. Just google events in the city you're visiting, and you'll probably find something interesting you can attend.
13. Join walking tours
If you want to combine exploring the city with meeting new people, a great way to do so is by joining walking tours. Often you can find free walking tours, which is even more convenient, although tips are greatly appreciated.
Ask at the reception of your hotel or the tourist information point if there are any walking tours available. Most of the time you don't even need to book, you just have to show up at the meeting point.
Feeling lonely when traveling solo can occur more often than you think, so a walking tour is ideal to help you meet others while keeping some of your safety concerns at bay.
14. Sign up for classes
Another great way to meet people is by signing up for classes. Whether it's dancing, yoga, or a cooking class, it can be a perfect opportunity to learn a new skill and make some new friends. You can search for Airbnb experiences, look for Facebook groups, or simply google whatever you are interested in learning.
Eating alone when traveling solo
15. Research restaurants in advance
Some restaurants are more solo traveler-friendly than others, so it may be useful to do some research in advance and see how the place looks like if you're dining solo. You can do so online or by walking around and checking out the places. This doesn't mean you can't treat yourself to some high-end dining, but at least you know what to expect.
That being said, allow yourself some room for spontaneity. If you pass by a place that looks nice, just go for it. Sometimes the best places are the ones found by chance. Just make sure not to fall into tourist traps that will overcharge you for mediocre food.
16. Bring something to read
If you're feeling too self-conscious as you're sitting at your table alone, waiting for your food, just bring something to read. This will give you something to do and will distract you from the completely unfounded feeling that people are staring at you and judging you for eating alone.
17. Get takeout
If you don't want to eat alone at a restaurant, you still have the takeout option. Order your food directly at the restaurant, or download any available delivery app to order it from the comfort of your room.
This option is definitely more comfortable, but try not to do it all the time. Eating at local places is one of the main parts of experiencing local culture.
18. Just do it without overthinking
Ultimately, the best advice is to just stop overthinking and just enjoy yourself. The feeling of awkwardness tends to fade as you get used to the fact that going to a restaurant alone is not the end of the world.
And not doing it may mean missing out on great culinary experiences, and even on the chance of meeting some nice locals.
Solo travel tips for women
19. Choose your destination carefully
The first safety advice when traveling alone as a woman is picking the right destination. Most places are totally safe for solo traveling women, but some may require some extra care and planning, while others would be best avoided.
While visiting many countries alone as a woman is often safe, going to certain other countries may require extra care, and maybe even a travel companion.
Read more: Solo travel destinations
20. Research the neighborhoods
Most cities have their good and not-so-good neighborhoods. Before planning your trip, take some time to research the city and find out if there are any neighborhoods to avoid completely, or to be extra careful if walking around at night. This is useful also when traveling with other people but even more so when traveling alone as a woman, so that you can avoid attracting unwanted attention as much as possible.
21. Don't overpack
It's quite easy to overpack, and this is especially true for us ladies. And in most cases, we end up not using half of the clothes we packed. If you plan on spending the whole time in one place, you might as well bring all the "just in case" items you want.
But if you plan on moving around, it's a good idea to bring fewer clothes and plan to wash them along the way. You may also want to cut down on toiletries and makeup. If you realize there's something you really need, you can always buy it. Try to pack light as much as you can.
22. Watch your drinks
Trusting people is good, but being extra careful doesn't harm. If you're at a party and someone offers you a drink, try to choose something that comes in a bottle so you can see when it gets opened.
Also, always keep an eye on your drink, and maybe avoid drinking too much unless you are with people you are sure you can trust.
23. Check local customs and dress rules
In some countries, it's frowned upon to walk around in shorts and tank tops. And while we all agree we are free to dress however we want, it's also true that different countries have different customs, and we should be aware of them.
After all, you are a visitor and it's often safer to abide by the local rules. Also, it may save you unpleasant staring situations, if not worse. Before your trip, check the local customs and pack accordingly. Particularly in a non English speaking country, it is vital you understand the culture so that you can blend in as much as possible.
24. Avoid disclosing your exact location
If you are used to posting on social media and tagging your location, it's preferable to keep it more general. If you absolutely want to share with your friends your real-time location, limit it to the name of the city or the general area rather than the exact restaurant or landmark you are at.
This way you don't risk accidentally sharing your exact location with strangers with bad intentions.
25. Stay aware of your surroundings
Always be aware of your surroundings. Avoid walking around with your earphones or constantly staring at your phone. Look around, not only to see all the beautiful things that surround you but also to take note of anything suspicious. This is particularly useful if you're walking around alone at night.
Resources for solo travel
26. Google Maps
Walking around without a map is the best way to experience a place and discover unknown spots. However, Google Maps can come in handy in many situations.
Also, if you think you may not have an internet connection, make sure to download the offline map in advance so you can still find your way around if needed.
27. Meetup
Meetup is an app that allows you to meet groups of people who share your same interests. It's a very commonly used app, especially in bigger cities. You can search for groups of other solo travelers in the city you're in and join the next meetup. Just make sure to read the group rules and you're ready to go make new friends.
Uber, Bolt, and other similar apps can be a lifesaver if you're short on time or need to reach a more remote location. Furthermore, they tend to be safer than taxis and even cheaper in many cases.
They also have the added benefit of showing the exact amount you need to pay in advance, so you'll have no surprises. Find out which ridesharing apps are available in the place you're going to travel to and download them in advance.
28. Expense tracker apps
From Money Manager to Mint and Wallet, there are countless expense tracker apps out there, you just need to find the one that works best for you.
Using an expense tracker app is much easier than writing everything down on paper and it allows you to always have an overview of your spending.
29. Noonlight
Noonlight is a safety app that can trigger a request to emergency services if you find yourself in danger. If you ever feel unsafe, you can open the app and just keep your finger pressed on the button until you feel safe again.
When you lift your finger, you'll have to input your 4-digit pin to cancel the alarm. If you don't input your pin, the app will send an alert to the local police and share your location.
30. Google Translate
Google Translate can be a lifesaver if you don't speak the local language and you find yourself needing to communicate with someone or to ask for help. Download the app for easier access, or just use the browser.
31. Flush
Finding toilets, especially free ones, can be a struggle when traveling. This app will show you the nearest public toilets, give you directions, and even tell you if you need to pay a fee to use the toilet. The database contains tens of thousands of public toilets, and you can even access it offline.
32. WiFi Finder
If you can't use your mobile data when traveling, WiFi Finder can help you find a local hotspot. Just download the map for offline use in advance and search for the closest hotspot.
The app contains thousands of verified wifi hotspots and will give you useful information such as speed, signal strength, and whether you need to pay or it's for free.
33. XE Currency
A must-have if you're traveling to a country that has a different currency. With XE you can easily convert to and from any currency, so you're always aware of how much you are paying.
The interface is very easy to use, and you can select the currencies you want to have easy access to. The conversion rate is constantly updated so you always get an accurate conversion.
34. Travello
Travello is sort of a social network for travelers. The app allows you to meet other fellow travelers in over 180 countries around the world.
You can join meetups or chats, share your travel memories or share your travel plans so that other people can join you. You can even find discounts for excursions and other activities.
Solo Travel Tips Summary
Leave no stone unturned when it comes to planning a trip on your own. A little forward thinking and research will go a long way to keeping you safe, connected, and having a great time.
Even if you're not a particularly sociable person, these solo travel tips can help you navigate a new country or bustling city, meet many travelers in the same boat, and allow for plenty of cultural immersion while keeping yourself safe and informed.
It pays to be prepared and savvy, and it can make all the difference no matter where you visit. If you can travel safely, and with confidence, you can spend far more of your time and energy on what travel is all about: having a great time, making memories, and experiencing new things.
You Might Also Like to Read
Save and Pin for Later
Planning a solo travel trip soon? Keep these insightful tips for safekeeping by saving this article to one of your planning Pinterest boards.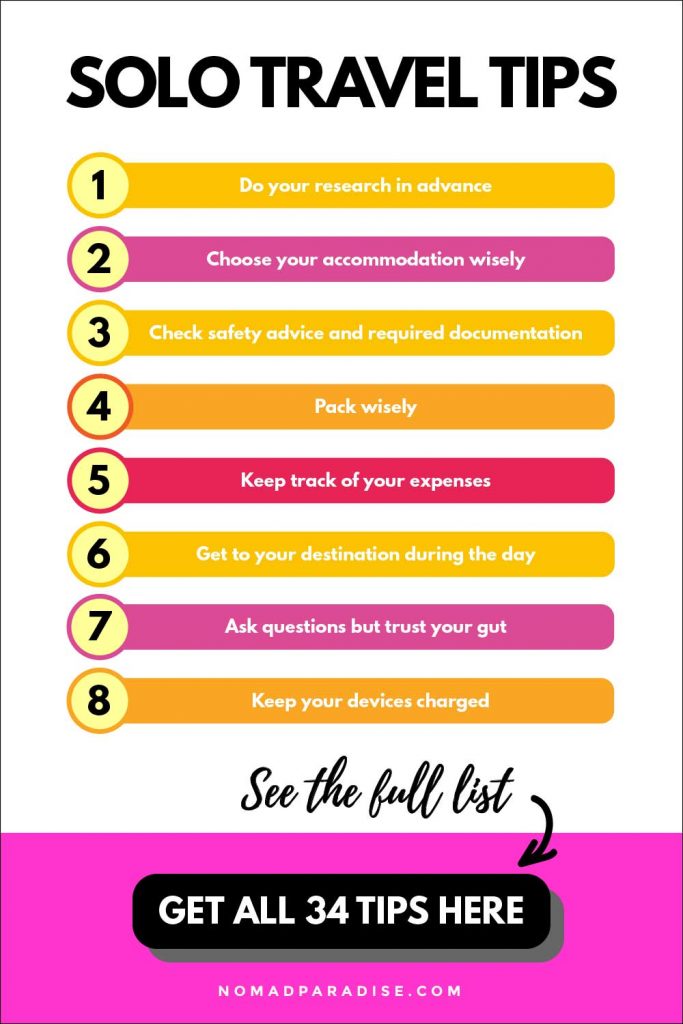 Author: Roxana Fanaru is a Rome-based Romanian-born journalist and content writer. She has written for various publications in the lifestyle and travel space and is a seasoned solo traveler.