This post may contain affiliate links, meaning if you book or buy something through one of these links, we may earn an affiliate commission at no additional cost to you. Learn more
Plan your visit to India with confidence and invaluable insight with the help of our ultimate India packing list, with packing tips, to help you leave no stone unturned before you head out to experience the wonders of this vast and colorful country.
If you scroll to the bottom of this article, you'll find a link to download this PDF printable for free. From there, you can print it off, fill it in, and take it with you to India.
India Packing List and Tips
Featuring a wealth of advice and insight from a local, our packing guide focuses specifically on what you need when you travel to India, and things you should definitely be aware of before making the trip.
On the packing list printable, you'll find a comprehensive list of India-specific travel items, and general items you should travel with, such as toiletries and electronics.
If you're looking for more ideas, also take a look at our ultimate vacation packing list for a fully comprehensive rundown of items and accessories for vacation and warm-weather travel.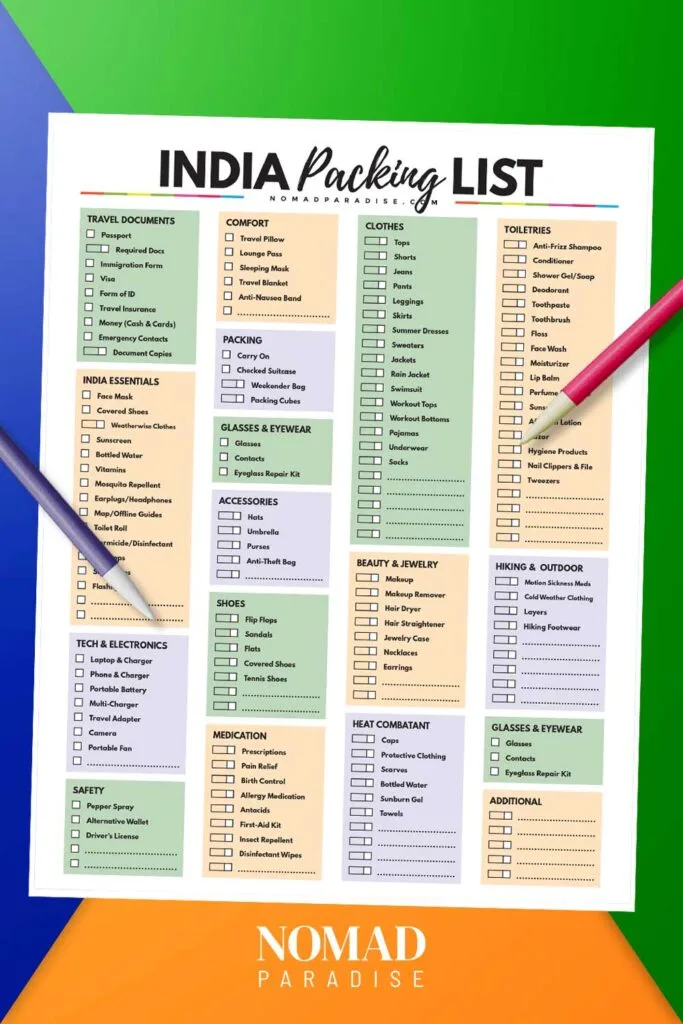 Essential Documents
1. Passport
You must have a current, valid passport. The passport must be valid for at least six months from the date you arrive in India.
2. Visa
Most international travelers entering India must have a valid visa. Travelers from many countries can apply for an e-visa online through the official Government of India evisa portal.
A few travelers will have the option of a visa on arrival, and some travelers will have to apply at an Indian consulate/diplomatic post. Check the Government of India visa portal for more details, or check with your consulate.
3. Immigration Form
You will need to fill out the Immigration form that will be given to you before landing or at the airport. It essentially asks for details about your stay in the country.
4. ID Proof
Besides your passport, carry one other form of ID, like a driver's license, on you. It is recommended that you have a digital copy of all your IDs and documents.
5. Vaccinations
WHO and local Health Departments around the world recommend certain vaccines when traveling to certain countries. If you're from the United States, you can check CDC's list of recommended vaccines for travel to India. You can also check with your healthcare provider before you travel.
Packing Essentials
6. Bottle Water
Carry bottled water when traveling in India. A water filter will not do, and tap water in India is not suitable for drinking without being filtered and boiled first. While most people worry about sickness due to food, consuming contaminated water is a bigger risk with more severe consequences.
Water-borne diseases are prevalent, and as a tourist, there is a higher chance of you falling sick due to consuming contaminated water. Always have bottled water on hand, and if you ever run out, try to consume fresh coconut water.
7. Clothing
Most parts of India enjoy warm, tropical weather for the majority of the year with high humidity. Cotton clothing is ideal for this kind of climate. You need to wear breathable fabric that will not keep you feeling sticky and hot.
Many parts of the country are also very conservative, so dressing modestly is advised. If you are visiting during the colder months, especially in North and North East India, then you will need a fair bit of winter wear like jackets, woolen sweaters, scarves, and woolen hats or balaclavas, which are called monkey caps in parts of South East Asia.
8. Appropriate Footwear
You need flat, comfortable shoes when traveling in India. Covered shoes are recommended as the streets are dusty, especially if you plan to walk or hike a lot.
Flip flops are great options indoors, or by the beach or pool. Homes in India are shoe-free, so if visiting homes and you are uncomfortable going bare feet, either bring an extra pair of socks or get flip-flops you can wear indoors.
If you are visiting during the monsoon, many parts of the country get water-logged or flooded, so bring a pair of rain boots or waterproof shoes.
9. Cash
While most places do accept card payments, it is best to carry some cash on you at all times. The cash can be used in smaller shops that do not accept card payments, like street vendors, or in case of an outage when card machines don't work. It is best to be prepared.
10. Forex/Traveling Credit or Debit Card
Make sure you have a card, be it credit, debit, or FOREX, that works in India. Ideally, you should use a card with zero transaction fees for international transactions.
11. Anti-Theft Wallet/Bag
While some parts of India are relatively safe, some tourist spots and crowded areas have a significantly higher crime rate in terms of theft and pickpockets.
It is easy to be pickpocketed in crowded places, so keep your important documents and money close to you and consider investing in an anti-theft wallet and bag.
Related: 5 Best Anti-Theft Backpacks for Travel to Keep Your Valuables Safe
12. Sunscreen and Soothing Balm or Gel
India is very hot, especially in the summer, so pack plenty of sunscreen with a high SPF. Since India is also humid, get sunscreen that is not cakey and won't wear away with sweat. Also, make sure you have some kind of aloe vera gel or calamine lotion to apply in case of sunburn.
13. Raincoat or Umbrella
June to September is the rainy season in most parts of India, which is called the monsoon. But India also experiences rain outside of these months, especially around November and December.
So, make sure you pack a raincoat or an umbrella to shield you from downpours. An umbrella is also a great way to keep yourself shaded from the hot sun.
14. Mosquito and Insect Repellant
Like most tropical countries, mosquito bites are a real problem in India. When visiting, be armed with adequate mosquito and insect-repellent sprays, lotions, candles, bands, patches, or whatever works best for you.
15. Medication
"Delhi Belly" is not a myth. Many visitors to India often end up with some form of food poisoning, so be prepared with your medications and electrolytes. Besides this, the weather and mosquitoes also result in fever, headaches, and dehydration.
While pharmacies are plentiful with a number of OTC medications at hand, you should still pack medication for the aforementioned symptoms. If you have any medical condition, naturally pack your prescription.
16. First-Aid Kit
Check Price on Amazon
For traveling anywhere, it is a good idea to pack a small first aid kit, with band-aids and disinfectant. This is just for small scrapes and wounds so that you don't have to go to a pharmacy or ER.
17. Masks/Sanitizer/Disinfectant Spray/Wipes
While mask mandates are no more in place, India is one of the most populated countries in the world.
So, if you are immunocompromised or just want to stay safe, pack disposable masks and sanitizers. Sprays and wipes are also recommended, especially when traveling to more rural areas.
18. Nasal Spray/Eye Drops/OTC Medication
India can be both very humid and very dry, depending on when you are visiting and which part of the country.
India is also very dusty, so if you are sensitive to dust, or have allergies, you will need something to keep you comfortable. Pack nasal sprays, eye drops, or your preferred over-the-counter medication.
19. Appropriate Food (If Necessary – Consider Options)
India is truly a food heaven, and there is so much delicious food to try, no matter where you travel. It is also not too difficult to find food, as restaurants and vendors, especially in the cities, open as early as 5.00 am, and many stay open until midnight, and even later.
However, as you're probably aware, Indian food is renowned for its heat and spice. It is a big part of the country's cuisine, and unless you stay at resorts or hotels that cater to Western tastes, you are going to largely be eating Indian-style food.
Consider this before you travel. If you are traveling with children, or you yourself, or travel partners, have particularly sensitive stomachs or suffer from food allergies, you should research your food options.
There are supermarkets in India that sell international brands, and you can find Western food, but it will depend on where you're staying and how accessible these places are in relation to your accommodation. As always, do you research and plan accordingly.
20. Maps/Guides or Offline Downloaded Map
India is a sprawling country that has been expanding at a rapid pace. The cities cover vast areas, and the sheer number of roads, streets, and alleys can be overwhelming.
Try to have a map with you at all times, or download a map to be viewed offline on your phone. Even if the downloaded map isn't 100% accurate, it will give you a good sense of where you are and how to get to key areas and landmarks.
21. Travel Adapter
Check Price on Amazon
India operates on a 230V voltage, and most plug points have a rounded 3-pin plug. So, do your research and get the required converter or travel adapter for your electronic devices.
22. Portable Fan
Check Price on Amazon
A portable fan is going to come in handy, especially on hot days with heavy, oppressive heat with minimal ventilation or breeze. Battery-operated and handheld fans can be a real lifesaver.
23. Toilet Paper
Most of India does not use toilet paper but instead uses some form of bidet. While toilet paper is easily available in stores, you don't want to spend your vacation shopping for essentials, so come prepared with your own.
24. Sunglasses/Hats/Caps/Scarves
The Indian sun is often intense and relentless. Any kind of head covering and/or eye protection will go a long way to keeping you comfortable and both heatstroke and dehydration away.
25. Translation App or Number of a Guide
India is home to some 22 official languages and over 1000 different dialects, according to the most recent census, so if you are traveling to places away from resorts and areas with less Western influence, try to have a translation app on hand that can at least give you some basic phrases. Or, try to get in touch with a local guide who can help you navigate the area and find your way around.
26. Flashlight
Check Price on Amazon
India does have frequent power outages, although most homes and hotels have generators that will get the power back up immediately. However, having a small flashlight handy is always a good failsafe.
27. Anti-Frizz Shampoo and Conditioner
Whatever type of hair you have, the humidity is going to wreak havoc with it. In addition to the water, pack hydrating, anti-frizz shampoo, and conditioner, to keep your hair clean and in good health.
28. Earplugs
Check Price on Amazon
India is noisy. It can get overwhelming, and the noise may keep you from sleeping. Hence, travel with a comfortable yet effective pair of earplugs.
India Packing List and Tips Summary
Traveling to India is an experience like no other. However, as with visiting any country, there are plenty of customs and things you absolutely need to be aware of before you plan your trip accordingly.
Traveling to India requires planning in order for your visit to be safe, comfortable, and enjoyable, especially if you plan to spend time away from tourist-heavy areas, or go to more rural parts of the country.
Be proactive now, and reaps the reward of a far more controlled and stress-free trip later down the line. Use our packing list to leave no stone unturned, and educate yourself about India, travel requirements, climate, and plenty more.
That way, you can show up in this vast and beautiful country as prepared as you can be. Yes, sometimes things happen that really are out of our control, but if you arrive in India having planned accordingly for the climate, cuisine, and culture, you are going to have a far more enjoyable and safer trip.
Feel free to download our packing list for free, and use it to start planning a truly unique and memorable trip. India is unlike any other place, I can assure you!
You Might Also Like to Read
Save and Pin for Later
Planning a trip to India. Keep our tips and packing list for safekeeping by saving this article to one of your planning boards.
Contributor: Nandhini Parthib is an Indian content writer, deeply passionate about Indian culture, travel, and cuisine, who is keen to share more about India through her writing.