This post may contain affiliate links, meaning if you book or buy something through one of these links, we may earn an affiliate commission at no additional cost to you. Learn more
If you're wondering how to avoid bed bugs when traveling, we've got a great list of tips and tricks for you to take with you on your travels.
Bed bugs are a terrible nightmare to encounter when traveling. They can be found in any hotel or motel, no matter the location or star rating.
These nocturnal insects usually hide in mattresses. They disappear into the crevices of mattresses, sheets, and pillowcases, and that is the biggest problem with these tiny creatures – they hide so well that it's really hard to detect their presence.
People who travel a lot have surely slept in a place with these critters without even realizing it. They are more common than you think, infesting hotels, motels, people's homes, rentals, used mattresses and furniture, and even used books.
How to Avoid Bed Bugs When Traveling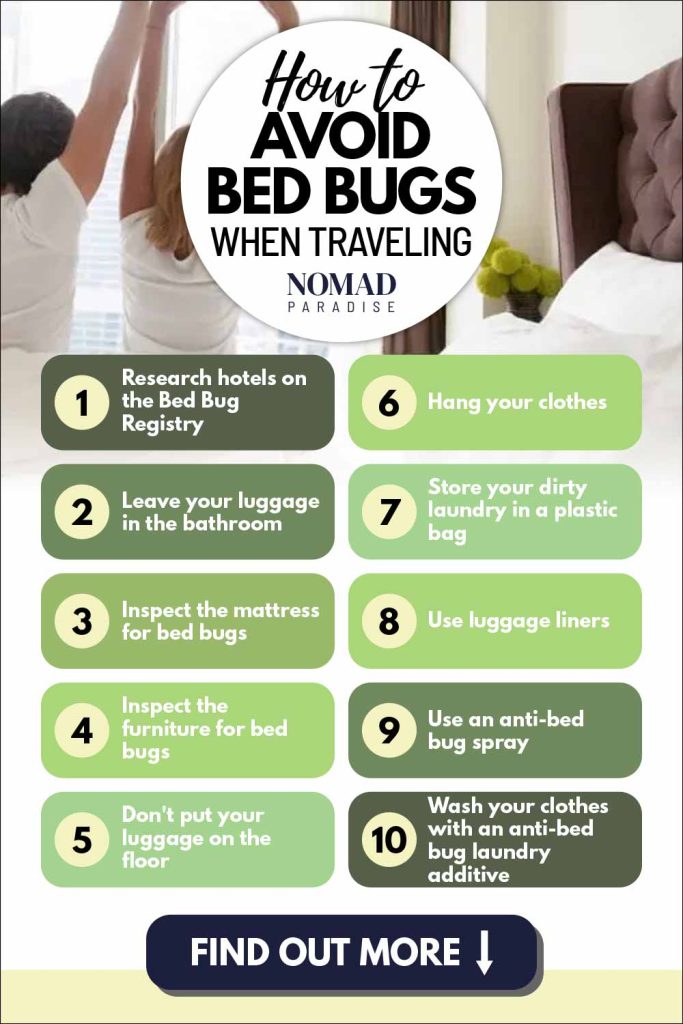 So, to give you peace of mind for your next trip, let's take a look at how to avoid bed bugs while traveling with our eight top tips and methods.
1 – Research Hotels on the Bed Bug Registry
Before you book a hotel, check to see if the one you're considering staying in is on the Bed Bug Registry. Search by the name of the hotel, city, and state. You can also read customer reviews and comments online and see if anyone has reported a bed bug infestation.
2 – Leave Your Luggage in the Bathroom
The first thing to do when you're finally in your room is to place your luggage in the bathroom. This is a precautionary measure to prevent your luggage from being infested with bed bugs.
According to the National Pest Management Association, bed bugs are least likely to be found in the bathroom because here, they don't have many places to hide and they don't like the tile floors. So, leave your luggage there while you're inspecting the room.
3 – Inspect the Mattress
You don't need any special tools to check your mattress and see if there are any signs of bed bugs. Pull back the linens and mattress pad and inspect all the way around and under the mattress.
Do your own bed bug inspection, and look for small black dots that look like ground pepper or mold, bloodstains, or the bugs themselves. They could hide in corners, seams of the bedding, or the mattress seams.
In case you find any of these signs, inform the hotel staff to notify management and ask to change rooms, preferably on another floor.
4 – Inspect the Furniture
Inspect all furniture around the bed, such as the nightstands, behind the headboard, under the alarm clock or telephone, behind picture frames, and even in books. Bed bugs don't just live in mattresses but also within 15 feet of beds or even further away.
Therefore, it's best if you check the seams and cushions of any soft chairs or couches, as well as the closet. Look for the same signs, and don't be surprised if you find these brown, flat, wingless bugs that are the size of a thick or an apple seed.
5 – Don't Put Your Luggage on the Floor
Don't put your luggage on the floor, on a chair, or on the bed in the room. Instead, use the luggage racks in the room.
These nasty little critters can climb up on almost anything, including your luggage, but not on metal legs. Therefore, keep your bag away from the furniture, and consider keeping it in the closet.
6 – Hang Your Clothes
If you place your folded clothes in a drawer, you risk them being infested with bed bugs because they like to hide in soft spots. Instead, hang your clothes to minimize the risk of having a critter crawl into your shirt collar. For extra precaution, shake any piece of clothing before wearing it.
7 – Store Your Dirty Laundry in a Plastic Bag
Bed bugs are attracted to the smell of your dirty laundry. Therefore, bring a plastic laundry bag with you in which to store your dirty laundry. That way, you'll know there are no dirty clothes around the bed that could attract bed bugs.
Related Reading: How to Pack Dirty Clothes while Traveling
8 – Use Luggage Liners
Check Price on Amazon
Use a luggage liner to protect your clothes from bed bugs.
9 – Use an Anti Bed Bug Spray
Check Price on Amazon
You can use such a spray around your luggage, along the mattress edge and seam, the headboard edge and the corner, the bed frame, and the bed feet. For good measure, also spray around the nightstand, the bed, and the couches if you intend to use them.
10 – Wash Your Clothes with an Anti Bed Bug Laundry Additive
Check Price on Amazon
If you suspect you encountered bed bugs on your travel, make sure to wash everything as soon as possible.
Wash clothes on high heat settings if possible. Even better, you can add an anti bed bug laundry additive to safely and effectively kill the bed bugs.
11 – Use a Portable Bed Bug Heater
Check Price on Amazon
You can use a bed bug heater to treat bed bug infestations in items you can't wash such as books. You can even treat your luggage with a bed bug heater.
How to Avoid Bed Bugs When Traveling Summary
Bed bugs may not transmit any diseases, but they do bite and cause rashes that can swell up like an allergy. Besides, the very thought of lying on a mattress full of nasty bugs is really uncomfortable.
Since hotels and motels welcome a lot of people, travelers have the biggest risk to meet these critters. Therefore, make sure you do these precautionary measures to avoid them whenever you're traveling.
So, one final time here's how to avoid bed bugs when traveling, using eight simple but effective methods.
Research hotels on the Bed Bug Registry
Leave your luggage in the bathroom
Inspect the mattress for bed bugs
Inspect the furniture for bed bugs
Don't put your luggage on the floor
Hang your clothes
Store your dirty laundry in a plastic bag
Use luggage liners
Use an anti-bed bug spray
Wash your clothes with an anti-bed bug laundry additive
Use a portable bed bug heater
You Might Also Like to Read
Save and Pin for Later
Did you find this article about how to avoid bed bugs when traveling useful, and want to keep it for reference for when you next travel? Be sure to save it and pin it to one of your Pinterest boards, so that you can find it again when you're next about to travel.
Non-product images licensed from Shutterstock