This post may contain affiliate links, meaning if you book or buy something through one of these links, we may earn an affiliate commission at no additional cost to you. Learn more
Eager to know how old you have to be to rent a car so that you can start planning epic road trips in other countries? You've come to the right place!
You may be a careful, cautious, and good driver, but if you're younger than 25, you'll most likely run into several roadblocks when trying to rent a car. This, however, doesn't necessarily mean that you can't rent a car if you're under 25 as the age restriction depends on the country and the car rental company.
How Old Do You Have to Be to Rent a Car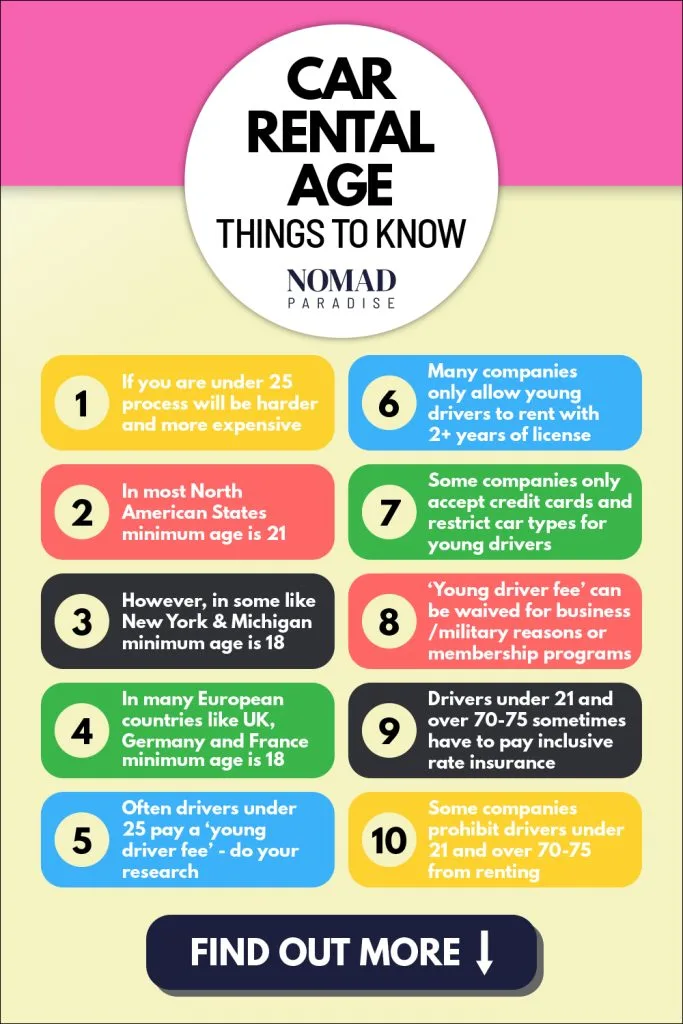 The Minimum Age to Rent a Car
In most states of North America, you have to be at least 21 years old to rent a vehicle. But, there are states where the minimum age for car rental is 18, such as Michigan and New York.
In most countries in Europe, such as the UK, Germany, Croatia, France, Portugal, Italy, and Austria, you can rent a car at the age of 18. Still, the process of car rental for young adults is harder, longer, and more expensive.
Why Is It Harder for People Under 25 to Rent a Car?
According to statistics, drivers younger than 25 get into more car accidents than older and more experienced drivers. The crash rate declines significantly after drivers reach 25 years of age.
The higher risk of accidents is the reason why rental car companies charge young drivers a high fee, restrict the type of cars they can rent, and often ban them from renting at all, especially if they are younger than 21.
The Young Driver Fee – How Much Is It to Rent a Car If You Are Under 25
Renting a car when you're under 25 is more expensive. Drivers under 25 usually have to pay a daily surcharge or a "young driver fee." Sometimes these daily fees can be very steep, ranging from $25 to $50 a day, depending on the country and rental car company.
Therefore, it's best to do some research to find the rates of several companies before you make a reservation. Make sure you compare restrictions and fees at more companies in the area you plan to rent a car to avoid paying the highest rates.
Compare and contrast car rental prices with different car rental companies at Rentalcars' website. Simply deselect the 'Driver aged between 30 – 65?' option and enter your age in the prompt box.
---
Compare Prices
---
How Long Do Drivers Need to Have a Driving License to Rent a Car?
Many rental car companies allow car rental for younger drivers only if they have a full driving license for at least two years.
Some companies allow a car rental if you have had a driving license for only a year, but only if you rent a small car. The rules depend on the rental car company and the location of the specific car rental office from where you get your car.
Are There More Restrictions for Drivers Under 25?
Some agencies don't accept debit cards from drivers under 25, but only credit cards. Also, some companies don't allow young drivers to rent premium or luxury cars, restricting their choice to standard SUVs, economy cars, or other more basic options.
Can Young Drivers Get Around the Restrictions?
People under the age of 25 can often have their young driver fee waived if they rent a car for business purposes. Also, the fee is usually waived if their employer has a corporate account with the rental car company.
There are car rental companies that bypass the minimum age requirements or fees for government officials on business trips, as well as military personnel and their families, especially in the United States.
Some membership rewards programs also waive the young driver fee. As always, it's always best to check with the specific car rental company.
More Facts about Car Rental Age Requirements
Some car rental companies have a maximum age limit that prevents drivers older than 70-75 from renting a vehicle.
Sometimes, drivers younger than 21 or older than 70-75 have to purchase insurance in order to hire a car. Instead of using insurance provided by a credit card or purchasing a basic rate, they have to purchase an inclusive rate.
Summary
The age restriction for renting a vehicle depends on the country and the company itself. However, in most countries, drivers under 25 usually have a harder time hiring a car than older and more experienced drivers. Plus, they have to pay additional daily fees which makes the car rental more expensive than normal.
You Might Also Like to Read
Save and Pin for Later
Did you find this article useful and want to keep it for reference for when you next travel? Be sure to save it and pin it to one of your Pinterest boards, so that you can find it again when you're next about to travel.