This post may contain affiliate links, meaning if you book or buy something through one of these links, we may earn an affiliate commission at no additional cost to you. Learn more
Looking for a bag that combines the structure and durability of a traditional backpack with the convenience of a wheeled tote? Let us introduce you to the wheeled backpack. In this article, we're going to take an in-depth look at the best wheeled backpacks money can buy.
We'll also define clearly what makes a wheeled backpack, and how it differs from other types of wheeled luggage. This will help you choose a backpack that's right for you.
Wheeled Backpacks for Travel
Top Pick
Check Price on Amazon
If you're looking for a quality wheeled backpack that covers a range of needs, we recommend the Osprey Packs Meridian. Its durability, versatility, and sleek design make it an excellent choice for both urban and outdoor travel and activities.
Quick Picks
Don't have time to read through the article and get in-depth with the products? Use our quick picks to get you to a wheeled backpack that suits your needs in a matter of seconds.
What is a Wheeled Backpack?
One of the most versatile designs of backpack on the market, a wheeled backpack very much does what it says on the tin. Essentially, it's a travel backpack with wheels.
Largely, you're combining the core mobility of a carry-on or suitcase, with the design and layout of a backpack. Picture a conventional backpack, and then add the following two features:
A set of wheels or skid rails on the underside of the backpack, to allow it to wheel or roll across a surface.
A retractable handle, as with any modern wheeled luggage, to allow you to pull the backpack along at a height that works for you.
Widely common throughout the wheeled backpack designs is the ability to stow away the shoulder straps in some type of compartment or pocket, so that they don't get in the way when you're wheeling the backpack.
These core features very much define a luggage piece as a wheeled backpack. Regarding the exterior, you will see many designs modeled on current and classic backpack designs. These include camera bags, duffel bags, and the conventional backpack design, consisting of a zippered main compartment, a zippered front compartment, and two side pockets.
Is a Wheeled Backpack Classed as a Carry-On?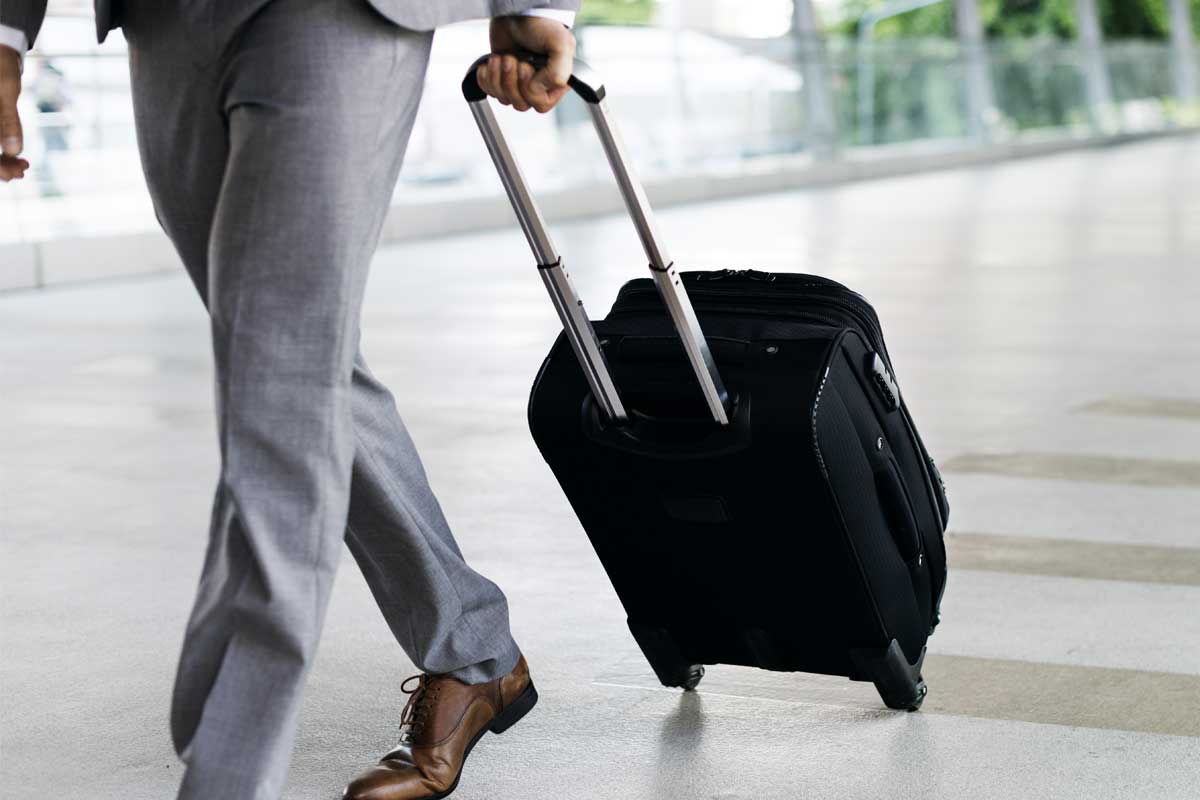 As we've spoken about in many luggage-themed articles, this is where you have to do your research. Many backpacks will claim to be carry-on sized, but that all depends on the specific airline in question.
The dimensions range. American Airlines, for example, allow for no larger than 22" x 14" x 9". Some airlines allow a height as low as 18", and others as tall as 24".
The misconception here is that, because the wheeled backpack is conventionally much smaller than a suitcase, but has wheels, it automatically slots into the category of carry-on. And this is where you need to be careful.
While many of our picks would pass for carry-on luggage, the Manfrotto Reloader, for example, is larger than the image suggests, due to its considerable size for holding camera equipment and padded bulk.
The best thing to do, simply, is to check the dimensions. While a wheeled backpack is a great purchase, its aim is to be multi-functional and to be used not just for air travel. If your goal is solely air travel, you're better off searching for a TSA-approved carry-on where the goal is for the luggage to be brought onto the plane with you.
Pros of a Wheeled Backpack
An interesting hybrid in its own right, wheeled backpacks come with a number of pros:
The ability to switch to a wheeled piece of luggage when you're tired, or your shoulders and back are sore from carrying a heavy load, is a wonderful option to have at any given moment.
And on the contrary, when the terrain gets too difficult to wheel a carry-on, or you're in a crowded place and want to wear the backpack, you have that option, again, at any time.
Because their structure is modeled on a backpack, you get more options and compartments than carry-ons or suitcases offer.
In high heat, backpacks can cause fatigue, and your back and shoulders pour with sweat. Knowing you can quickly switch to the wheels eliminates this.
Likewise, if you suffer from an injury while traveling, being able to wheel your backpack can help avoid hours of grief, pain, or discomfort.
Wheeled backpacks are a much better option than a carry-on for any outdoor travel or activities because you can switch to backpack mode when the terrain gets too rugged for wheels.
Cons of a Wheeled Backpack
Despite their versatile design, rolling backpacks are not going to be for everyone.
Naturally, because of the wheels and handle, their base weight is heavier. Particularly if you're packing for hikes or extended outdoor activity, this extra weight can be very noticeable over time.
Their back panels are much more rigid than a conventional backpack, and often don't employ the comfort features like a breathable mesh, for example, that standard backpacks do. Rolling backpacks won't curve against your spine as well as non-rolling backpacks.
Many manufacturers position the wheels in line with the edge of the back. This means often, when carrying a rolling backpack, the wheels will touch, or even dig into, your back.
Despite many taking a leaf out of a conventional backpack and adopting a sleek design, you'll still notice many wheeled backpacks will be considerably bulkier. This is noticeable when carrying them on your shoulders.
Unlike carry-on luggage, which is designed with airline restrictions in mind, wheeled backpacks come in all shapes and sizes. This means many will be too large to bring on to the plane as carry-on luggage. Yet the misconception is that, because they're wheeled, they automatically fall into the carry-on category, and not the checked luggage category.
Things to Consider Before Purchasing a Wheeled Backpack
Fabric and Materials
This is key to purchasing a wheeled backpack or rolling backpack with longevity. Most people purchase a wheeled backpack with the intention of air travel. Even if the backpack can be brought onto the plane as a carry-on, the very fact it is designed to hold a larger volume means you want a backpack that can manage more than a little rough and tumble.
600D Polyester and 420D Nylon are common combinations you'll see in these types of backpacks. If you're looking to purchase a bag for the outdoors, you'll want to look for reinforced stitching at common stress points and seams, and at the very least water resistance.
Curvature of Your Back
As we've discussed above, rolling backpacks are equipped with wheels and a handle. This means the back of the backpack is far more rigid than a conventional backpack. Often, too, wheeled backpacks will not be loaded with comfort features. Mesh panels, extra padding on the straps, and chest or waist clips, are largely forgone as a trade-off to the backpack's ability to be wheeled at any given moment.
If your intention is to mainly carry the backpack on your shoulders and not utilize the wheels, you're definitely better off investing in a conventional backpack. Likewise, if you find carrying backpacks makes your back and shoulders ache early on, you should look for something that ergonomically suits your needs better.
Dimensions
Do not be drawn into the misconception of all wheeled backpacks being carry-on or under-seat compliant. If your intention is to bring the backpack with you on all flights, make sure to do your research.
Look at the airlines you commonly use and their allowed dimensions, or take an average across several airlines a purchase a wheeled backpack in accordance.
Type of Wheels and Handles
Commonly, you'll see three types of rolling or wheeling mechanisms.
The first is the skid rail. This is simply a protruding piece on the underside of the backpack that allows it to be pulled along surfaces. Commonly, the skid rail is used with a set of wheels. The skid rail allows for maneuverability, while the wheels give you stability. However, there are some rolling backpacks that simply use the skid rails.
The second type is a set of fixed wheels. These are commonly found at the bottom left and right of the backpack, aligned with the back panel. Sometimes the wheels will be fixed on the underside, and partially covered within the base of the backpack. Other times they'll be facing outwards from the side, and fully exposed.
Lastly, spinner wheels are wheels with a full 360-degree range of motion. They are attached to the underside of the bag, on the corners. While giving you a much greater range of motion than fixed wheels, their exposure and protrusion make them more vulnerable to knocks and damage.
Handles are a little less diverse. The widely used telescopic handle, that rises and falls to certain heights, is used across wheeled backpacks. Usually, the difference is whether they use a singular or double bar. Single bars with a top handle allows for a more agile pull, but the backpack will feel less balance. The double bar handle is sturdier but doesn't allow for as agile turning and maneuvering. Factor in your shoulders, back, and wrists when thinking about the style of backpack to get.
Capacity
Wheeled backpacks commonly give you much larger capacities than conventional backpacks, due to their design and bulkier frame. This often means you could get a carry-on and backpack load down into one singular set of luggage.
However, if you don't need rolling backpack luggage to carry larger loads, you're better off just looking for a conventional backpack. The trade-off of a more comfortable design for the ability to become rolled luggage won't be worth it in the long run.
Best Wheeled Backpacks for Travel
1 – Osprey Packs Meridian 60L/22" Wheeled Luggage
Our Choice for Best Overall Wheeled Backpack
Check Price on Amazon
Capacity and Compartments
Essentially with the Meridian series wheeled luggage, you're getting two backpacks in one. The core pack, attached to the wheeled chassis, gives you a spacious main compartment with four zippered compartments for easy-access segmentation. There's also a zippered top pocket to use for toiletries and items you may need to access quickly before boarding a flight.
The magic then spreads down to the detachable daypack. This can be used either as a separate segment of the luggage or taken off and used as a standalone backpack. Although it's supposedly the add-on pack, you're still getting a quality Osprey-seal backpack. There's room to stow a 15" laptop in the padded laptop sleeve, a tablet in the additional smaller padded tablet sleeve, items in the main compartment, and two side mesh stretch pockets.
How you use them, as a duo, or separately, is entirely in your hands. The spacious 60L total capacity is a combination of 40L from the main bag and an impressive 20L from the daypack. This pack is an excellent way to segment your travel and overnight gear from your day gear, all in one well-designed luggage set.
Materials and Features
That renowned Ospreys seal of quality is reinforced with their choice of 1680D ballistic nylon and 420D nylon pack cloth. It's designed to be durable, making it a great choice for both business and urban, and outdoor travel.
The Meridian also comes with a range of well-crafted features for carrying the backpack both over the shoulders, and along the floor via its wheels. When the daypack is attached, you have the option to unzip the main bag's shoulder harness, concealed in a zippered compartment on the underside. This allows you to carry it over your shoulders in places where the wheels simply won't agree with the terrain.
If you're not keen on carrying such bulk on your shoulders, the main bag has padded top and side handles for a swift pick-up and carry.
When it comes to wheeling the backpack, Osprey has paid particular attention to some of the best rolling carry-ons on the market. Their highroad chassis, firstly, gives you a smooth pull and more maneuverability than the common rolled tote design. But also, it gives you a high ground clearance, so you can wheel the bag over slightly more bumpy terrain, without too much issue.
Lastly, the internal compression straps in the main 40L bag allow you to hold clothes securely and help create a little more space. When it comes to the best rolling backpack out there, the Meridian scores high in so many categories.
Pros
The ability to wheel, side carry, or shoulder carry the backpack make it very versatile and suitable for both urban and outdoor travel.
The detachable daypack makes this a brilliant 2-in-1 purchase that can cover both your immediate and overnight travel storage. Plus, for an add-on, the daypack is very comfortable and spacious.
High-road chassis give the backpack a smooth pull and allow it to be wheeled along more challenging terrain, such as uneven pavements, where lower-clearance rolling bags would really struggle.
Cons
No hip straps, which would have helped both distribute the weight better, particularly as this backpack is 40L and has wheels and a built-in retractable handle.
Be sure to double-check with any airline when flying. While this is advertised as a carry-on bag, you'll still need to double-check dimensions for overhead and under-seat stow.
It's important to be mindful that, while the wheeled chassis has been designed for tougher terrain in mind, it's still not designed to be pulled through rugged, outdoor terrain.
2 – Samsonite MVS Spinner Backpack
Our Choice for Best Wheeled Backpack for Business Trips & Work
Check Price on Amazon
Capacity and Compartments
Our first and only pick in our list to employ the spinner wheel design. Naturally, spinner wheels give you a full 360-degree range of motion and seamless maneuverability. But the spacious organization is where the Samsonite MVS really comes into its own.
Across the 19" x 12" x 12" size you get 6.4lbs of sturdy, well-compartmentalized backpack. At the rear, the well-padded dedicated laptop compartment gives you room to slide in a laptop of up to 15.6".
The front compartment is spacious and a great place to store your business attire and bulkier items. The front zippered pocket, then, is where you can utilize a number of compartments and smaller zippered pockets inside for your stationery and tech. Within the backpack, there are felt-lined hidden pockets to stow your important valuables. Two side zippered pockets complete the lineup and make this an excellent choice for business travelers with plenty to pack and sort.
Materials and Features
Designed to be utilized as a carry-on, Samsonite has gone with a 600D Ripstop Polyester, knowing that the demands of air travel require a backpack of a highly durable nature. Aside from the padded laptop compartment that helps with shock absorbent, notorious weak points have also been reinforced with additional fabric.
The top handle is simple enough to deploy and uses a push-button locking mechanism to make sure the handle stays at the correct height.
As the spinner wheels have been mentioned, with their 360-degree maneuverability, I would also like to point out the mesh-padded back panel and hidden padded shoulder straps, which give you a comfortable hold when wearing the backpack over your shoulders. The straps are accessed and stowed within the panel on the back.
Samsonite has conjured up an exciting blend of durability and anti-theft features, to create a carry-on backpack hybrid perfect for business travelers on the go.
Pros
Spinner wheel design gives you a 360-degree range of motion and much smoother, easier maneuverability through busy airports.
The spinner design also helps when you're carrying the backpack on your shoulders, as the wheels won't stick into your back.
Designed with business travelers in mind, due to its range of compartments and the padded laptop sleeve, which is a welcome addition.
Cons
A combination of spinner wheel design and considerable width means it's a bulky backpack to carry on your shoulders, and noticeable if carrying through large crowds or through tight spaces.
Absence of compression straps mean it can expand to a considerable size and become somewhat unbalanced, so be mindful of how you pack the backpack.
A lack of colors and designs, and its sizeable, spinner wheel frame mean it's a better choice for its functionality, rather than its appearance.
3 – JanSport Driver 8-Wheeled Backpack
Our Choice for Best Wheeled Backpack for College or School
Check Price on Amazon
Capacity and Compartments
The Driver 8 may be a bag with plenty of personality, but don't for one second think there's no substance behind the style. Very spacious at 21" x 14" 10" and 36L, there's a solid array of organizational features within the structure.
The impressive 36L is largely down to the inclusion of two main compartments, one of which contains a 15" laptop sleeve. Once you're done organizing your larger equipment, both the front stash pocket and organizer utility pocket give you options for stowing away smaller items.
A side water bottle pocket completes the line-up of storage options. For its weight in comparison to its capacity, it's an impressive feat for such a backpack.
Materials and Features
The Driver 8 utilizes a smooth yet sturdy combination of 600 Denierpolyester and the industry-favorite 420 Denier Nylon. This gives you a wheeled backpack more than able to deal with the rough and tumble of being worn and wheeled around campus or school.
If you're looking to wheel the backpack, the 80mm inline skate wheels and retractable two-stage handle give you a good level of maneuverability and ease of pull. Once the handle is stowed and you want to carry it, you'll find the shoulder straps conveniently tucked away inside the back panel.
The back panel itself is padded, giving you a comfortable feel against your backpack, particularly at a heavier weight of 5lbs compared to conventional backpacks. And the skid rails are an excellent feature, too, giving you another layer of protection.
The Driver 8 series comes in a range of fun and funky patterns and designs. This makes the backpack a perfect unisex choice, and great to show off on school grounds or campus. Singular color options are also available if you prefer something a little more simple.
Pros
Dimensions and 36L make it perfect for college or school children that frequently carry large, bulky books and items, as well as their tech, and is one of the best rolling backpacks for school.
The range of patterns and colors mean you can choose a backpack that oozes personality and style. School children and students will see the Driver 8 as a cool rolling backpack.
Skid rails and smaller wheels combine to provide a smooth pull and a backpack that's considerably maneuverable across tarmac and through corridors.
Cons
The retractable handle is not the sturdiest due to its smaller top handle. Lighter loads shouldn't prove any problems, but be mindful of heavier loads when pulling.
The hidden backstraps are connected via clips, and there are other wheeled backpacks that deploy the hidden straps in a simpler, easier-to-use way.
Only one side bottle pocket, compared to the conventional two found on many backpacks.
4 – Cabin Max Carry On Luggage Rolling Backpack
Our Choice for Best Budget Wheeled Backpack
Check Price on Amazon
Capacity and Compartments
For long-term backpackers or anyone needing a wheeled backpack on a budget, the Cabin Max Rolling Backpack is a sound investment. Its sizeable frame of 22" x 16" x 8" is made all-the-more remarkable by the backpack's breath-taking weight on only 3.7lbs. With a total capacity of 44L, this is one spacious wheeled backpack.
The zippered main compartment is great for your bulkier items. The front zippered compartment comes complete with two compartments and a mesh segment, for your smaller, more valuable items.
Designed very much with stuff-packing in mind, four compression straps allow you to keep the bulk in check and all items inside packed in safely and tightly.
Materials and Features
As simple as this backpack may be, it packs plenty of punch when it comes to nifty little features. Rolling wise, the backpack adopts a solitary skid rail design, with no built-in wheels. This goes a long way to keeping the weight low.
Both the telescopic handle and the back straps stow away nicely and inconspicuously within compartments on the top and back of the backpack. Once the back panel is unzipped, it conveniently wraps around the underside of the backpack, giving the skid rails cover and protection.
Very much designed for outdoor travelers in mind, the 600D fabric is both water-resistant and anti-tear, making it very durable, and a backpack that can handle wetter weather better than its urban wheeled backpack counterparts. The zips are also lockable, giving you an extra layer of protection, and their heaty-duty exterior means they hold up well against wear and tear.
As a backpack, is it basic while being sizeable, but for the price you pay compared to most other wheeled backpacks, it's more than worth looking into.
Pros
44L capacity and a mere 3.7lbs of weight is a remarkable feat for a wheeled backpack and gives you plenty of room for multi-night packing.
Skid-rail only design and expertly hidden handle and unzipped back panel mean this carries like a conventional backpack, without the awkward bulk of a wheeled carry-on.
600D exterior very durable and gives you protection against the rough and tumble of travel, and the wetter elements via the water resistance. For the price you pay, it's highly functional and effective.
Cons
No wheels mean the roll is not as smooth as other backpacks, and the ground clearance is very low.
Lack of compartmental design and no laptop sleeve in the main compartment make this better for outdoors and vacation travel, rather than business.
No side pockets and lack of anti-theft and hidden features require most items to be stowed in the main compartment, altogether.
5 – Samsonite Modern Utility Business Bag
Our Choice for Best Lightweight Wheeled Backpack
Check Price on Amazon
Capacity and Compartments
At 20.8" x 14.1" x 9.8" you're getting a sizable, spacious piece of rolling backpack luggage with plenty of storage power. Inside the main zippered compartment, you'll find a 15.6" laptop sleeve attached to the front panel, and a top zippered compartment which stows the carry-on handle.
The front zippered compartment has all the organization a business traveler could ever need. Mesh segmented compartments allow you to store a tablet, pens, wires, adapters, and a range of other tech.
Included in the 4.85lbs worth of premium wheeled rucksack are an additional top zippered compartment and two side zippered compartments. For a lightweight rolling backpack with all the look and design of a traditional rucksack, you get a mightily impressive amount of storage space.
Materials and Features
4.58lbs of polyester rip-stop give you a very durable wheeled rucksack that should more than hold up on the school or college commute and throughout the day.
When it comes to air travel, its sturdy base and fixed back wheels fit well into the design, while still giving you maneuverability. The backpack comes complete with a retractable handle for a smooth pull through airports and corridors.
For those times you don't want to wheel it, two shoulder straps can be pulled and stowed from the top zippered pocket on the back panel. Both the straps and handle are adjustable, allowing you to find a fit perfect for your height and size.
Samsonite has stated their utility business bag is of carry-on size. However, be sure to check with the airline you're flying with just to make sure you comply with their regulations.
Pros
The handle and wheeled base are concealed effectively within the backpack's stylish design. Once zippered up, it very much looks like a durable, stylish backpack.
At 4.85lbs it is very lightweight for a wheeled backpack, even with the built-in carry-on mechanisms.
Gorgeous color and rip-stop nylon mean it oozes class, while still having all the functionality of a rolled carry-on
Cons
Low-ground clearance, so avoid pulling this bag across and over steps or cobbles.
Zippered side panels don't have the expandable capabilities of a mesh pocket, meaning you can't use them for water bottles and bulkier items.
The back panel doesn't have the comfort features e.g. breathable mesh, that a non-carry-on rucksack would have. Compartment wise it's excellent, but comfort-wise it's a little more basic.
6 – Manfrotto Reloader Switch-55 PL Roller
Our Choice for Best Wheeled Backpack for Camera Equipment
Check Price on Amazon
Capacity and Compartments
A sound choice for filmographers and photographers that need to travel for work, the Reloader considers the needs of the professional creative. The camera backpack has room not only for the likes of a DSLR with up to 400mm lens, but also an additional DSLR body and realistically 3-4 lenses, depending on size.
The deeper body bag with padded dividers is where you can store camera, lenses, and larger items, while the unzippable upper compartment has three compartments, one mesh and two zippered, to store a range of memory cards, cables, and other accessories. You also get an external tripod connector which attaches on the outside of the bag.
All-in-all, you have up to 14 protective dividers and 2 CPS dividers to design the bag in a way that best houses your equipment. If that wasn't enough, there is also a padded front pocket that can stow up to a 17" inch laptop, so you don't have to worry about stowing your laptop in with your clothes or an additional laptop bag on your trip.
Materials and Features
Made of a durable pro-light rip-stop fabric, Manfrotto have gone the extra mile with this wheeled backpack to keep your precious equipment as protected as feasibly possible.
There is reinforced padding on the corners of the bag, while the exterior is lined with additional protection trims. Inside, the main body of the bag has been fitted with an EVA molded tray, to provide additional protection to your camera bodies and lenses without adding considerable weight.
For those unfortunate moments you get caught in the rain, the backpack features both a fold out rain protector to cover the bag, and a water repellant coating that lines the fabric to help make the backpack more water resistant.
Once you're ready to go wheeled, you can simply stow away the telescopic style handle and quickly pull out the hidden shoulder straps, stowed in the front of the backpack. It's that simple.
Pros
The needs of a modern day photographer or filmographer have really been considered, with room for two DSRL bodies, multiple lenses, and a range of accessories.
Materials used have been well selected to find that perfect balance between durability and weight. Several users have commented on how the backpack is lighter than they expected.
The addition of the 17" inch laptop sleeve, again, shows the thought put into the backpack in relation to the needs of the modern content creator.
Cons
While marketed as carry-on size, be sure to check with your airline before you board. Stowing lots of equipment will very quickly expand the size of the backpack, meaning it may not pass guidelines.
Due to the nature of the backpack, the focus is very much on durability and a seamless roll as a carry-on. While the backpack straps stow nicely and are well designed, there are more comfortable options out there in terms of backpacks.
7 – High Sierra Unisex AT7 Wheeled Duffel
Our Choice for Best Wheeled Duffel Backpack
Check Price on Amazon
Capacity and Compartments
High Sierra has packed plenty of might and punch into their AT7 wheeled duffel model. Across the 22" x 9" x 14" frame, you get a spacious 50L of capacity at only 7.38lbs of additional weight.
Inside, you can either use the zippered divider to create a compartmental space for your luggage. Or, you can roll it up, and simply use the bulk of the 50L capacity in one large space. If you're a 'stuff and zip it' kind of person, this will work great for you.
Aside from the main zippered compartment, there's also a sturdy drop-bottom compartment. This is great for shoes or larger items. Having a place to stow your shoes, in particular, away from your clothes, is always a welcome option.
Materials and Features
Composed of 1200 Denier Duraweave and with fabric lining, the AT7 has been designed for rugged, outdoor travel at its core. Its high-density foam structure goes a long way to keeping the bag's structure firm and maintaining its capacity and spacious interior.
When it comes to wheeling the bag, the AT7 utilizes the classic uni-body wheel housing design. Two skate style wheels provide stability at the rear when the bag is held upright. For smooth maneuverability, the roller handle allows you to smoothly guide the duffel bag across floors, pavements, and terrain.
The telescoping handle allows the bag to suit a variety of heights, and it also comes with a locking mechanism.
In situations where you do want to carry the duffle bag on your shoulders, two padded backpack straps, both adjustable, can be released and stowed from a zippered back compartment. And, naturally, you get compression straps on the front for those moments you want to carry the bag as a duffel.
Pros
Its versatile design, which allows you to wheel the bag, wear it as a backpack, or carry it as a duffel, make it far more purposeful than a standard duffel bag.
Known for its durability. The sturdy structure, strong zippers, and wheels that can handle a little rugged terrain, all make this one tough cookie of a bag.
Due to its shape frequently passes as a carry-on, while giving you an impressive 50L of capacity to work with.
Cons
While the straps are padded, they are thinner than older models, and other duffels on the market.
Be cautious of how rugged the terrain you wheel it across gets. It's not designed to be wheeled through incredibly rough terrain.
Nature of the wheeled design means you lose the side pockets which most classic duffels give you.
Best Wheeled Backpack Summary
We've been on quite the journey together! Wheeled backpacks and rolling backpacks are quite the hybrid and bring a great deal of value to the luggage market.
Whether you're looking for a carry-on substitute, a backpack with plenty of style and substance for school, or a backpack to tackle the rugged outdoors, our top picks cover a wide range of bases.
You Might Also Like to Read
Save and Pin for Later
Considering buying a wheeled backpack for your future travels? Save this article to one of your Pinterest boards, so that you can revisit our top picks at a later date.
Non-product image licensed via Shutterstock