This post may contain affiliate links, meaning if you book or buy something through one of these links, we may earn an affiliate commission at no additional cost to you. Learn more
If you're tired of traveling with soggy cotton towels that tear easily, then it's time you got yourself some microfiber travel towels for your next trip.
In this guide, we'll going to look at the best microfiber and quick dry travel towels on the market, so that you can pack your towels with confidence.
We'll also look at the technology behind the microfiber towel, and how it dries so quickly.
Quick Picks
Don't have time to read this article? Then don't worry. Here are some quick picks to get you to the right towel, with minimal effort or fuss:
Getting Started with Travel Towels
'A towel, it says, is about the most massively useful thing an interstellar hitchhiker can have,' according to The Hitchhiker's Guide to the Galaxy author Douglas Adams.
And if a towel is massively useful for interstellar travel, it's going to be even more massively useful for travel on Planet Earth!
Sure, towels are not the most invigorating topic of conversation when it comes to travel, but a towel is still a very useful and important item to travel with.
Thanks to technology, there is a wide range of towels on the market today that serve the needs of travelers and those who do plenty of other activities.
Gone are the days when you have to re-roll up a sodden, sweat-laden cotton towel and place it back into your rucksack.
Now, thanks to microfiber, towels for travel are practical, compact, lightweight, and something that many travelers simply do not travel without.
What is a Microfiber Towel?
Microfiber is a synthetic fiber, with a diameter a fifth of the width of a human hair.
Together, these incredibly fine fibers come together by the billions in an array of different materials, such as polyester and polyamide.
Because the fibers are so compactly assembled, this makes the resultant material incredibly tough, durable, and, most importantly, liquid absorbent and quick drying.
As you can imagine, microfibres are used in products for a range of purposes.
But due to these characteristics, they make a great towel for a traveler, backpacker, or gym-goer, on the go, who need to carry their towel with them.
A Breakdown of Travel Towel Sizes
When shopping for travel towels, you'll often have to select your desired size. Often, it's very difficult to visualize the dimensions listed, or not know what the size from XS-XL, actually look like.
Particularly if you're traveling light, or if you travel with a carry-on, you're going to want a compact towel that doesn't take up too much space.
Here's a quick breakdown of sizes to give you a better idea of what to buy.
XS or Small
At this size, picture a washcloth you would use to clean kitchen or bathroom surfaces with.
Or a hand towel, like the ones you'll get in hotels, rolled up on top of the larger towels.
At this size, they're great for wiping the sweat off your brow, or liquid from your limbs. But you're going to struggle if you need to wrap yourself in the towel or want to wipe down your whole body.
Medium
Medium-sized towels you're most likely to find people using at the gym.
They're not big enough to wrap fully around you, say, after coming out of the shower, but cover a large enough area to wipe your back, front, and limbs, firmly and quickly.
Large
Once you get to large-sized towels, you now have enough material to wrap around you with ease.
Large towels you would use to wrap around your wet hair, or body when coming out of the shower. Commonly, they'd be called bath towels online.
XL and above
Once you're into the XL and above range, you're now looking at towels with a surface area that exceed the height and width of your body.
These are towels that are great for using as beach towels, yoga mats, or for wrapping around yourself in particularly treacherous, wet conditions, where you can pretty much cover your entire body.
Great to have with you, but be wary of their size. Even though most travel towels come rolled and compact, XL and above towels may be larger than your compact carry-on. Be sure to check the dimensions.
Best Travel Towel Picks
Now that we're clued up on what microfiber towels are and do, and their sizes, let's take a look at some of the best towels on the market.
For those of you that prefer other types of towel, I have included a selection of non-microfiber on the list too. See the table of contents for more details.
The Best All-Round Microfiber Towels for Travel
Here, I've listed a selection of great microfiber towels that are just overall excellent towels to use for travel, no matter what your needs.
They're all durable, quick-drying, compact, and strike a perfect balance between quality and price.
1 – Wise Owl Outfitters Camping Towel
Check Price on Amazon
Renowned in camping circles as a trusted brand, Wise Owl Outiffer's camping towel is an excellent choice for your travel towel.
As part of the set, you get two towels for the price of one, which is a fantastic deal. In addition to a 12" x 24" towel, you also get a 12" x 12" square towel for good measure.
Both come with a convenient bag, so you can pack them up neatly and fit them into any luggage or carry-on.
Towel-wise, they're incredibly soft and can soak up any liquid. Their quick-drying microfiber fabric means you can wipe the water off your body at the beach.
Or, you can swipe the sweat off your body after hot yoga, and quickly stow the towel back in your bag, with no problems.
You get a choice of seven colors, and the gorgeous marine blue is my preferred pick. Durable, unbelievably soft, and two towels in one, make Wise Owl Outfitters makers of an excellent travel towel.
2 – Rainleaf Microfiber Fast Drying Towel
Check Price on Amazon
Very popular in the yoga community, Rainleaf has brought a microfiber towel to the market with plenty of vibrancy and practicality.
It's incredibly absorbent, meaning you can repeat use it in no time at all. The towel comes with a great hang snap loop, allowing you to hang it in a variety of places.
It also comes with a small, compact packing bag, so you can pack it neatly with your other clothes in your luggage or carry-on.
The texture is awe-inducingly soft against even the most delicate of skin, and the towel can be used for any travel, at the beach, after swimming, or at the gym, as well as yoga.
It comes with a choice of nine colors. The orange is gorgeous, and a great addition to any traveler's ensemble, but all the colors are equally as alluring.
Size-wise, you get six choices, from XS through to XXL. This gives you an option for all occasions.
3 – OlimpiaFit Fast Quick Dry Ultra Compact Towel Set
Check Price on Amazon
Big and highly-regarded in the gym community, OlimpiaFit's great value 3-in-1 microfiber towel set is an excellent choice if you can carry multiple towels for multiple needs.
As part of the set, you get three towels. The first, 50" x 30", is your large option, and perfect for your full body activities, such as drying off after swimming, or using at yoga.
The second, 30" x 15", is your medium-sized towel, and works well as your trusted towel to take hiking, backpacking, rainy or wet places, or simply to keep in your accommodation bathroom as a bath towel.
Finally, you also get a 15" x 15" square towel, which is great to use as a hand-drying towel, or out on hikes or the gym, to wipe the sweat off your brow or limbs.
The microfiber is antimicrobial, meaning they can absorb a mightly impressive 3-4 times their own weight, and they dry up to 10 times faster than any cotton towel.
The three towels are wondrously smooth against the skin on all parts of your body, and all three come with a loop to be easily hung.
The elastic strap always for easy rolling, and with a choice of eight colors, you'll most certainly look the business on any trail or in any locker room. For what you get for the price, it's a fantastic option.
The Best Beach Towels for Travel
Beach towels often have to serve more than the simple function of drying you off. They need to cover a large area, be easily wiped down, and look elegant and beautiful.
While practically all large microfiber towels will serve the purpose of a beach towel, I'd highly recommend the following towels if you're specifically looking for a dashing, vibrant, and incredibly practical beach towel.
4 – Genovega Mandala Microfiber Pool Beach Towel
Check Price on Amazon
If you want some of the most Instagrammable beach towels on the market, look no further than Genovega.
While they offer a smaller travel towel range, it's their large size towels that really define them in the market.
They offer large size towels at 63" x 31", XL size towels at 74" x 34", and a family size towel at a whopping 72" x 72".
These towels are perfect for taking down to the beach and laying out on the sand, with a small family, your partner, or simply all to yourself.
The microfiber material is silk-like against your skin and wipes away water with no problems.
Due to the compact nature of the fibers, it is also very easy to wipe away all the grains of sand beneath the towel, without getting grains stuck to in and in your bag.
It dries three times faster than a cotton towel and easily folds up into a compact bag that can be stowed in your rucksack.
In all, they have a whopping thirty-three designs to choose from, all of them vibrant, elegant, and the perfect blend of color and pattern to make a real statement at the beach. Towel prints are also double-sided.
5 – Elite Trend Microfiber Beach Towel
Check Price on Amazon
Elite Trend brings a gorgeous selection of microfiber towels to the market. Solely in the large towel market, their sizes start at Large, which gives you 63" x 31" of vibrant, microfiber goodness.
Next, they have an XL at 78" x 35", followed by a Super Large at 63" x 63". Finally, their family size is a gigantic 72" x 72", which is perfect for taking to the beach with a group of friends.
You can also opt for a bundle pack, with you gives you two towels at 71" x 31" and 31" x 16". Perfect for making some customized laying arrangements at the beach.
Folded inside a lovely little pouch, some of the designs are to die for. Designs are printed on both sides, and with the microfiber, you get a luxuriously soft texture that dries up to three times quicker than cotton.
You get thirty-five impressive designs to choose from, in addition to some single-color combination packs.
Elite Trend really has left no stone unturned. Lightweight, durable, and a gorgeous addition to your beachwear.
6 – Eccosophy Microfiber Beach Towel
Check Price on Amazon
Not many brands claim you can 'own the beach' with their products. But when you see Eccosophy's microfiber towel designs, you'll understand why they make that claim.
Complete with the durable, lightweight, and rapid water-absorbing and quick-drying properties of microfiber towels, Eccosophy's towels act just as much a fashion statement as they do a practical towel.
One size at 71" x 37", you have ample room to lay out on the sand, reach a book, or watch the waves lap and the world go by.
Their seven designs, named after glorious vacation destinations, such as Fiji and Cancun, are stunningly intricate patterns to behold.
Watch the likes on Instagram roll in as you pose on your luxurious beach towel.
Complete with its own lightweight pouch, this towel can just as easily be used at the gym or at yoga; if you're willing to accommodate its large size.
The Best Gym Towels for Travel
If you're looking for something that doesn't quite make the fashion statement of the beach towels but is incredibly absorbent, durable, and lightweight, these microfiber towel options work perfectly for the traveler who likes to workout on a regular basis.
7 – Newverest Microfiber Towel Set
Check Price on Amazon
An excellent choice for the traveler who frequently works out, Newverest's microfiber towel set gives you an excellent three pack combo, all easily rolled up and stored in a durable, stylish drawstring bag.
The large-sized towel covers 52" x 32" inches, the medium-sized towel 32" x 14", and the small 18" x 9" inch.
In essence, you have a hand towel for wiping the sweat off your brow, limbs, and off machinery.
The medium works great for showering after the gym, and the large if you need to hit the mats for ab work, bodyweight exercises, or yoga.
The towels absorb a great deal more moisture than their weight, and dry incredibly rapidly, giving you multiple uses throughout the week.
You can very easily just take one with you to the gym, or opt to travel with all three inside the excellent drawstring bag.
The silver-grey color with gold trim looks sleek and stylish, without drawing too much attention.
Gloriously soft, you'll wonder why you ever bothered with bog-standard cotton towels at the gym.
8 – ScorchedEarth Microfiber Travel and Sports Towel
Check Price on Amazon
If its efficiency and durability you're after, then ScorchedEarth have a towel set just for you.
You get two options to pick from; their medium set, or large set. Each set consists of two microfiber towels, and a great carrying bag to pack them up with.
The medium set gives you a 40" x 20", and 24" x 12" towel. This is great for the gym-going traveler who needs to wipe the sweat off their brow, limbs, or machines and is planning to shower or hit the pool or sauna after a workout.
If you need something more substantial for floor workouts, I'd recommend the large set that gives you two microfiber towels at 60" x 30" and 24" x 12".
With seven deep, rich colors to choose from and the ultra-absorbent, quick-dry, incredibly soft properties of microfiber, ScorchedEarth really does have a towel set that will keep you dry and satisfied at the gym, which you can then take out hiking or traveling with you.
9 – Dilib Two-Pack Microfiber Towel Set
Check Price on Amazon
Dilib's two-pack microfiber towel set gives you a wide range of practicality, whilst being packed up into a useful little drawstring bag.
You get two towels in the set. The medium towel, at 32" x 16", is great for the shower and locker room. The large towel, at 60" x 30", is perfect for all your floor work, and the pool or the sauna afterward.
The towels can absorb up to five times their own weight in liquid and dry three times faster than traditional cotton towels.
Plus, with the microfiber feeling like liquid gold against your skin, you'll have no trouble taking these great towels to and from the gym on your travels.
You have five colors to pick from, and the hanging loop on each towel allows you to hang the towels from a variety of different hooks, corners, and places.
Compact, practical, and incredibly durable, Dilib bring a microfiber set to the market that's hard to beat for the price you pay.
The Best Yoga Towels for Travel
If you do a lot of yoga, you'll know all about the irritations of having to carry a sweaty yoga mat to and from class.
If you wipe it down with a towel, you then have to carry a sodden, stinky towel with you as well.
The towels in this list are designed to go hand-in-hand with your yoga mat. First and foremost, they act as excellent towels to conduct your practice on, over the top of a map.
Afterward, they can also be used as a towel. All bar one are made of microfiber, and all are a worthy addition to your yoga equipment as you travel to some of the world's most beautiful locations.
10 – Yoga Mate Non-Slip Bikram Towel
Check Price on Amazon
Yoga Mate knows their stuff when it comes to yoga equipment, and their non-slip bickram towel is a fantastic towel to conduct your practice on.
The microfiber makes for an odorless, durable, and, most importantly, non-slip towel. Ideal for those hot, sweaty Bikram yoga sessions, where you need to hold a pose, but are concerned about slipping on the mat.
The towel is a very large 68" x 24" in size, so it will cover the length and width of your mat, and then some.
It's incredibly easy to wash and very lightweight when rolled up and carried under your arm or in a satchel or backpack.
The blue and pink tye dye is a gorgeous design, and in total, you get six designs to choose from.
Plus, the more towels you order from Yoga Mate, the more money you save. Buy two, and you get 10% off. Buy three, you get 15%, and buy four to get a whopping 20% off.
The towels also come with a money-back guarantee, which is a very honest addition from Yoga Mate.
11 – Shandali GoSweat Non-Slip Hot Yoga Towel
Check Price on Amazon
With its super-soft suede microfiber composition, Shandali brings a fantastic yoga towel to the market with its GoSweat range.
Durable enough to be used as a yoga mat in its own right, the velvet texture is not only soft on the skin, it absorbs all the moisture, allowing to keep in pose during those intense yoga sessions without slipping.
Odorless, durable, and easily washable, you'll wonder why you haven't been using Shandli towels for your practice since they first came on the market.
The standard size covers 72" x 26.5", which works perfectly as a mat or large towel, and there's also a 26.5" x 16" hand towel option, too.
You get six easy-on-the-eye colors to choose from, with my personal pick being the teal towel.
12 – IUGA Non-Slip Yoga Towel
Check Price on Amazon
IUGA brings a very innovative, and luxuriously soft microfiber yoga towel in the market in the form of their non-slip yoga towel. It comes as a two-in-one set, combining the yoga towel with a hand towel.
You can select a 68" x 24" yoga towel, or a 72" x 26" yoga towel if you'd like a little more space. Where this towel comes into its own, however, is its corner pocket design.
The towel's corner pockets hook under your yoga mat, so you never have to worry about readjusting the towel or the towel sliding off the mat. A great feature that will allow you to focus on your practice fully.
Still lightweight, its 30% extra thickness compared to standard yoga towels gives you a soft, but sturdy base to perform and hold your positions on.
Made from 100% premium microfiber, you'll have no problems with slipping even in the sweatiest, hottest, most intense yoga sessions.
This is a very innovative, practical, and well-thought-out yoga towel that comes in six vibrant colors and the additional hand towel. Great for the price you pay.
The Best Non-Microfiber Towels for Travel
Finally, I've reserved a section for some great travel towels that may not use microfiber materials, but still bring plenty of quick-dry, ultra-absorbent, and stylish design to the marketplace.
13 – Nomadix Travel and Yoga Towel
Check Price on Amazon
I couldn't put together a section on towels without adding a Nomadix towel to the lineup.
Admittedly, you don't get the microfiber material, but that in no way means Nomadix's yoga and travel towel is in any way inferior to others on this list.
Nomadix is a brand that has successfully aligned itself with the frequent traveler.
They cleverly fuse practical travel products with some stunning designs, knowing full well a frequent traveler wants more than a product that does its job. They want to look and feel great with that product too.
Made from 80% polyester and 20% nylon, Nomadix's travel and yoga towel help you do your bit for Mother Earth, being made from certified recycled materials.
At 72.5" x 27.5", you get an extremely long and large towel, that can be used not only for yoga but also for hiking, camping, swimming, and general travel.
Incredibly lightweight and quick-drying, where Nomadix excel is in the designs they offer.
With twenty-six stunning options to pick from, you'll be the envy of your travel friends when you arrive at the yoga studio or the beach with this glorious, intricately patterned towel.
You also have the option for a single or double-sided print. Perfect for the traveler who wants more than practicality.
14 – Sanxiuly Cooling Towel
Check Price on Amazon
Made from 55% polyamide and 45% polyester, Sanixuly's cooling towel is a great choice for travelers who like to use towels as a cooling bandana or neck wrap.
Its wondrously soft texture allows your skin to breathe deeply and freely and is an excellent way to keep yourself cool in hot, humid temperatures.
All you have to do is soak the towel, wring it out, and then snap it, and you'll activate its incredible cooling properties.
It'll stay cool for up to three hours, and all you need to do is simply re-soak it once the cooling fades.
Incredibly innovative, the absorbent fiber retains the cold water, essentially acting like an air-conditioner against your skin.
It comes with a choice of seven colors, a great waterproof bag, and a choice of medium 40" x 12", or large 47" x 14" towel.
A lifesaver if you're prone to heatstroke, or really struggle in intense heat when outside or hiking, this is a great towel to bring with you on your travels.
15 – Nature Is Gift 100% Natural Turkish Cotton Towel
Check Price on Amazon
Our final stop on our tour of the best microfiber and quick dry towels for travel takes us to Nature Is Gift, and their luxurious, gorgeously designed multi-purpose Turkish cotton towel.
At 71" x 39", you get a vast amount of soothingly soft Turkish cotton to lay your skin against.
If you're big into eco-friendly products, this is a great towel for you to purchase.
The towels are made using OEKO-TEX certified dye yarn in Turkey, and a very eco-friendly as a result.
Incredibly absorbent and quick-drying, the towel is perfect for a range of activities on your travels, such as yoga, hiking, swimming, and taking to spas.
Due to their delicate touch, they can also be used as sarongs or scarfs. With thirty-five delicious designs to choose from, you'll struggle for days to choose between the vibrancy and the cuteness of each and every towel.
If you want to do your bit for Mother Nature, this is the perfect towel to take on your travels with you.
Best Travel Towels Summary
Remember, Douglas Adams was a wise man. Don't compromise on sodden towels that tear easily.
All the microfiber and quick-drying towels on this list serve a wide range of purposes, are lightweight to carry, and will keep you dry time after time.
Don't get stuck with low-quality hotel and Airbnb towels: get yourself a towel that will last you a long time, and keep you dry in any situation.
You Might Also Like to Read
If you're still keen to add to your travel gear, be sure to check out some of our other articles:
Save and Pin for Later
Already planning to purchase a microfiber towel or quick dry towel, but not right now? Pin this article for later.
---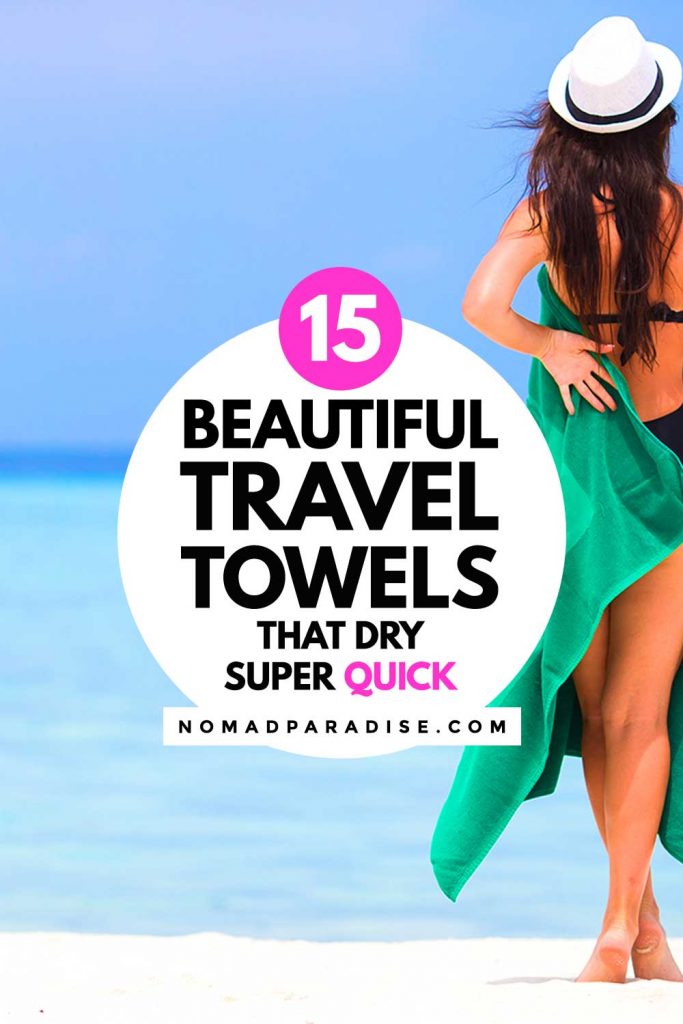 ---
Author: Dale Johnson is a content writer and strategist, who has been traveling full time since 2016.