Some posts on this site contain affiliate links, meaning if you book or buy something through one of these links, we may earn an affiliate commission at no additional cost to you. Learn more
If you're keen to learn more about travel humidifiers or are interested in buying a travel humidifier, our guide will be able to point you in the right direction. From long haul flights to overly air-conditioned malls, now more than ever, you need to take extra care of your skin, throat, eyes, and body while traveling.
In this guide, we'll take a closer look at seven of the best travel humidifiers on the market. Each humidifier addresses a specific purpose, covering a range of requirements, from size to limited noise. We'll look at each humidifier's top features, and breakdown the pros and cons of each unit. This will allow us to ultimately identify whether each humidifier is right for you, according to the type of travel you intend to do.
Don't let dry air irritate your skin or agitate your allergies. A travel humidifier can add enough moisture to the air in which you live, breathe, and sleep to help keep you happy, healthy, and enjoying your travels.
Quick Picks
No time to read through? No problem! I'm sure our quick picks can point you in the right direction:
Best Travel Humidifiers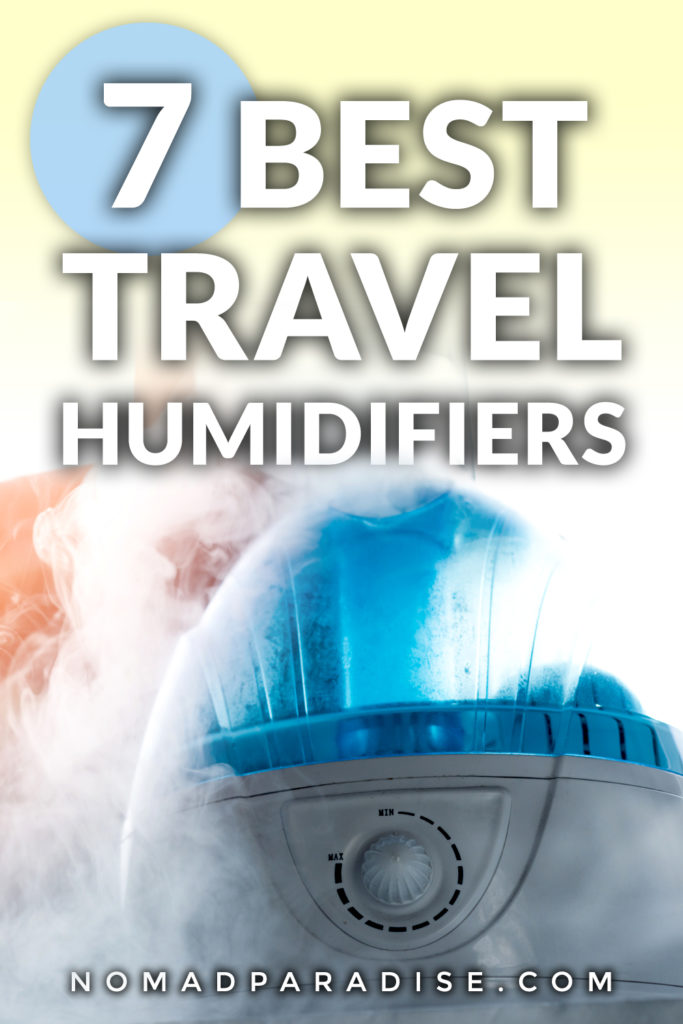 So, with our list ready to go, let's take a closer look at some of the best travel humidifiers available on the market.
Check Price on Amazon
Features
The best travel humidifier on our list packs a lot of features in a small package that make it an extremely versatile and convenient humidifier for travelers. Like most small humidifiers, you will need your own container, but unlike most other ones, this very portable humidifier can be adjusted for different container sizes.
This is accomplished with the accessory kit that includes two different cores, one short and one long. This means that you'll able to use this humidifier with almost any glass or small bottle as a container. It is powered by a USB cable that comes in the package and that can be plugged into USB ports that many hotels nowadays offer in their rooms.
You don't need to worry about your sleep being disrupted as this tiny humidifier operates silently and has an auto shut-off safety feature which will automatically turn it off when it can't draw any more water from the container.
Pros
It is a lightweight and compact humidifier that won't feel like a chore to carry around. You can even adjust the length of the humidifier to suit your container, which will probably be the glass found in your room if you're using this as a hotel humidifier.
It is very simple to use and there is no need for complicated preparation. It won't disturb your sleep thanks to its quiet operation, and it has an auto shut-off safety feature which makes it a great personal humidifier.
Cons
The main drawbacks of this humidifier are the facts it will require the cord to be plugged in at all times which could limit the placement possibilities and that there is no way to adjust the output. These are small problems that can easily be overcome though, and this remains the top humidifier on our list.
Check Price on Amazon
Features
With this product, you have a choice between a cordless humidifier and a USB portable humidifier as it has two possible energy sources, a USB cord or 3xAA batteries. The USB cord is included with the humidifier and you'll need to secure the batteries yourself.
Small water bottles (up to 20oz) are inserted into the base to act as containers so you don't need to pack anything else besides a compact humidifier base. There is an option to adjust the humidifier so that it shuts off after a set amount of time (2,4, or 6 hours), or you can just let it work its magic until it runs out of water and shuts off automatically.
It will require cotton filters to operate and you will get three of them right away, which should last you for up to 6 months of use.
Pros
Lightest humidifier on this list at 3.68 ounces. Despite its small size and weight, it humidifies the room quite fast and it does so silently. You can choose between a cordless humidifier (battery-powered) and USB-powered operating modes for maximum versatility and portability.
Cons
Unfortunately, only bottles with standard necks can be used as containers – bottles with low necks won't work with this humidifier. Also, the size does limit some features, so you won't be able to use essential oils with this humidifier to add your favorite aroma to the room.
The setbacks are nothing to cry over and the pros still outweigh them by far, making this the top tiny humidifier on our list.
Check Price on Amazon
Features
Just like the previous humidifier on this list, this one uses water bottles that attach to the base via a special adapter as containers. When the container runs out of water, which should take around 6 hours for a standard small bottle, the humidifier will automatically shut off to prevent any damage to itself or its surroundings.
It is fairly lightweight, and given how accessible small bottles are, there should be no need to carry a container with you as you can easily secure one wherever you go. Speaking of going anywhere, the humidifier is constructed to work with a wide range of voltages which makes it usable in any part of the world. It is powered with a cord that plugs into a power socket, and this adapter also powers the mood light on the humidifier.
Inside the box, you'll find a few extra accessories such as a small travel bag for your humidifier and a brush to make cleaning the inside components easier.
Pros
The humidifier comes with a 5-year warranty, so you'll get to use this product for a long time without worrying. The amount of mist it produces can be adjusted to suit your specific needs and the conditions of the room you're in. Finally, the mood light is not too strong and it can help create a pleasant atmosphere in dark environments.
Cons
While the humidifier will work with a wide range of voltages, the plug is designed for western sockets. If you find yourself trying to use this humidifier in a part of the world that uses different power sockets, you'll need a secure a converter to be able to use the humidifier.
If you're sensitive to light, it is important to note that the mood light can't be turned off, which could disrupt your sleep if you want to use the humidifier overnight.
Best road trip/car humidifier:
InnoGear
Check Price on Amazon
Features
This extremely compact humidifier is perfectly suited to usage in a car thanks to its size, shape, and power sources. Starting from the glass-shaped design, it is meant to fit into your car's cup holder and its low weight and compact dimensions more than allow it to fit a cup holder comfortably. In keeping with the car theme, the humidifier is powered by a USB cord that plugs into a USB port present in many modern cars.
You have the option to choose from two mist modes, continuous or intermittent, which is handy given that the humidifier can be used with essential oils. It also features a mood light that can be set to change colors, stay on a particular color, or be turned off entirely. It doesn't require an external container as it features an internal one.
However, this internal container is somewhat small given the small dimensions of the humidifier itself. There is an auto shut-off feature for when it runs out of water, so you don't have to worry about any damages to your car.
Pros
It is very compact and one of the few humidifiers on this list that can easily be used in a car. There is a high degree of possibility for customization as the mood lights and the mist modes can be adjusted to suit your preferences. Finally, essential oils can be used with this humidifier to distribute some relaxing scents inside your car.
Cons
The humidifier's USB cord comes without any additional adapters and the tradeoff for the small dimensions is a small internal container of only 50 milliliters (around 3.5 fl oz). While this is a good humidifier if there is a USB port in your car, these cons will severely limit the humidifier's usefulness in larger areas.
Check Price on Amazon
Features
This is the product for you if you're looking for a modern, high output humidifier. It can go through a gallon of water every 24 hours. It doesn't have an internal tank, and it uses plastic bottles with a capacity of up to 0.5 liters as tanks. These bottles are connected to the base with a special adapter. The humidifier is powered with an adapter that is plugged into a standard power socket.
There is a special LED indicator that will let you know when the unit is running and when it runs out of water. You can control the amount of mist it generates, and the unit will automatically shut off once the container runs dry to prevent any damage while you replace the empty container with a full one. It comes with its own special travel bag so you don't have to worry about finding something to put it in and prevent it from getting scratched.
Other accessories also include a handy brush that will help with cleaning some of the internal components of your humidifier.
Pros
Being able to use different power sockets is important when you travel, so it's a great thing that this humidifier has an adapter that comes with several endings for different types of sockets. The visual information you get from the LED makes it much simpler to check the current status of your device and the container than with other humidifiers.
Cons
This humidifier has only one major drawback as far as traveling is concerned.While the humidifiers we've covered so far weight only a few ounces at most, this one might make you think twice about packing it in your carry-on bag as it weighs 1.3 lbs.
Check Price on Amazon
Features
This silent and modern humidifier works with a specific 0.25 quarts external tank that comes with the unit alongside a carrying bag, a power adapter, and a user manual. It can humidify a room of around 100 square feet and run for up to ten hours.
It is a USB portable humidifier and USB ports are available in most modern hotel rooms and even many hostel rooms, so finding power source shouldn't be an issue. Once the tank runs dry, the unit will shut off automatically and the product itself holds ETL safety certificates.
It is one of the few modern humidifiers that have antimicrobial features to prevent the build-up of mold and bacteria in a wet environment.
Pros
The manufacturer offers a 1-year warranty for this product which should keep you worry-free for some time. It is also very versatile thanks to its power supply and long working time. Speaking of power supply, it also comes with an adapter that will let you plug it into a regular power socket, but you may require a converter to fit the specific socket of the country that you're in.
Cons
The weight of just over half a pound is higher than most other devices on this list. The special tank it uses means that you won't have to secure a bottle or glass to use, but it means that the humidifier will take up more space in your luggage, which might be a problem if you are limited in that department.
At this weight, one would simply expect it to have more features than the bare minimum, such as adjustable output level or timers.
Check Price on Amazon
Features
The relatively large size of this high-capacity humidifier made from safe and non-toxic materials might give the impression that this is a loud machine. In reality, the exact opposite is true as this is one of the quietest humidifiers you'll find on the market.
It's whale-shaped, and the safe materials make it a perfect choice for your baby's room. There is also a nightlight that you can adjust or even turn off should you feel the need. It features a 360-degree nozzle for the best possible distribution of mist and you can easily adjust the output level with a dial on the side of the unit. The package includes a cleaning brush for easy cleaning of the unit's internal components.
The maximum working time of this humidifier is anywhere between 12 and 30 hours, depending on the output level. The water is stored in a custom, large capacity 2.5-liter tank that is easy to remove and refill. Once the water runs out (which is going to take a while), the unit will automatically shut off as a safety feature.
Pros
You can adapt the performance of the humidifier to your exact needs with the controls for mist output and nightlight levels being accessible and easy to use. Speaking of the nightlight, you can use it independently from the humidifier.
The large capacity means that you won't have to worry about refilling it nearly as often as you would with smaller humidifiers. The extremely quiet operations and the BPA-free plastic used in construction make this humidifier the perfect addition to your baby's room, and the ability to add a few drops of essential oils into the tank means that you can also use it as a disperser.
Cons
The only drawbacks of this unit are the size and the weight of 3 lbs that might make it a bit difficult to carry with you when traveling.
Best Travel Humidifiers Summary
Hopefully, with our in-depth expertise, you now have a much better understanding of travel humidifiers and the types available to you. As you can see, it's not a case of one size fits all. Thinking long and hard about where and the environments in which you'll be traveling will allow you to purchase a travel humidifier that works best for you.
If you do suffer from allergies or are prone to irritated skin and sore throats in dry air conditions, a travel humidifier most likely will be a more than worthwhile purchase for you. As we mentioned before, with many countries embracing a tourism boom like never before, air-conditioned environments becoming more common.
Don't spend the duration of your trip suffering. A little investment now can go a long way to making your trip a far more enjoyable experience.
So, before we wrap up, let's take one final look at the seven travel humidifiers we covered in this article.
You Might Also Like to Read
Save and Pin for Later
Keen to purchase a travel humidifier, but haven't quite made your mind up yet? Why not save this article to one of your Pinterest boards, so that you can revisit our top picks in the near future.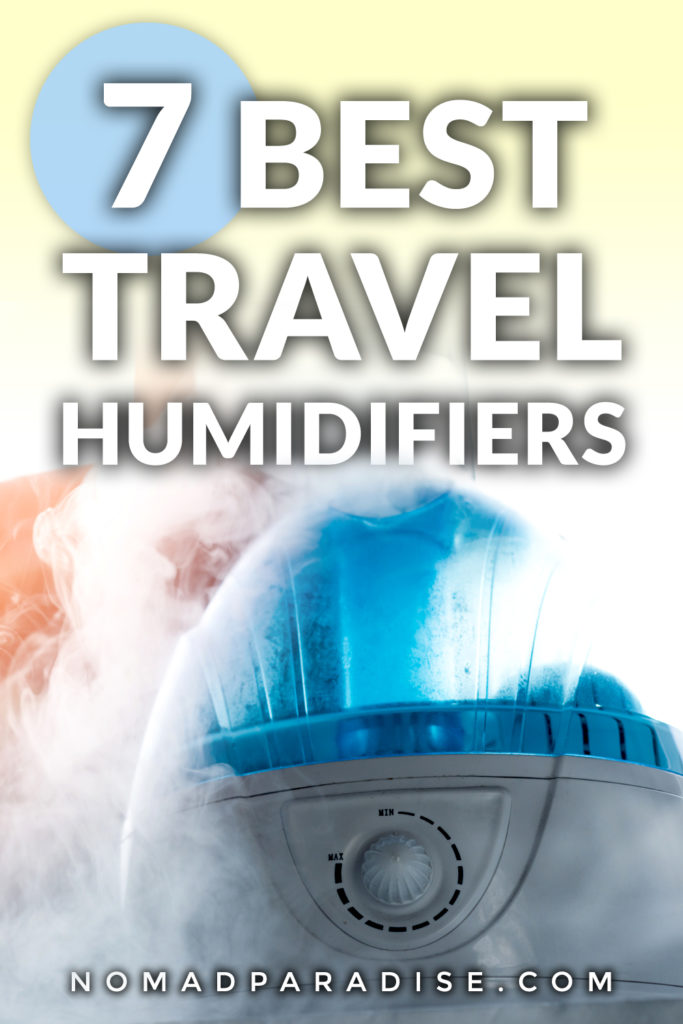 ---
Non-product images licensed from Shutterstock