This post may contain affiliate links, meaning if you book or buy something through one of these links, we may earn an affiliate commission at no additional cost to you. Learn more
Looking for the best gift ideas for a beloved friend, family member, or significant other that loves to travel, but you don't know where to begin?
Conjuring up the perfect gift idea for a traveler is no mean feat. Some travelers are constantly jet-setting all over the world, with nothing more than essentials in a carry-on.
Some travelers still want the luxury of home when they visit exotic places. And some travelers would give anything just to get a good few hours of sleep on a long-haul flight!
Knowing the type of travel your gift recipient does is key to selecting the right gift for them.
And, particularly if you're shopping for a Christmas for them, what better time than now to sit down and get them something you know they'll love?
Best Gift Ideas for Travelers
I've selected 36 of the best products on the market that cover a wide range of desires and needs. To make this list much easier to digest, I've assigned the products into the following categories:
Whatever your needs, I'm sure there's a gift on this list that will light up the face of the person you're buying it for once they've unwrapped it.
Best Cheap Gifts for Travelers
Shopping for a beloved traveler, but you're on a budget? Fear not, as there is an incredible range of fun, practical, and gift-worthy products on the market that won't need you to break the bank.
All the gifts listed in this section are under or around $25.
1 – Landmass Scratch Off Map of The World
Check Price on Amazon
You'll know that anyone who travels frequently loves to share and talk about all the places they've been.
This scratch-off map is great for those who have traveled extensively to many countries.
It looks great pinned to a wall or framed in an apartment. It includes the flags of 210 countries, and state outlines for Australia, Canada, the USA, and island outlines.
A great talking point for a frequent traveler when they have friends over, and to document their lifelong journey.
2 – Travel Pillow
Check Price on Amazon
Making long-haul flights comfortable is a sweet spot all travelers are looking for when they fly.
Travel pillows are designed to prevent your head from shifting around, due to their curved structure.
A travel pillow allows you to sink into the fabric and drift off as you sail into the night.
It can also be used in many places outside of a plane. Perfect for anyone facing a grueling long-haul flight.
Read more: Best Travel Pillows
3 – Carry on Cocktail Kit
Check Price on Amazon
We all need to take the edge off during a long flight. For someone who drinks, what better way than their very own cocktail-making kit?
Compact and stylishly designed, the kit comes with a holding tin, recipe card depending on the cocktail, spoon, 1/2 ounce jigger, a bottle of syrup, and a linen coaster.
It's all TSA approved, so perfectly legal to board with. Moscow Mule is just one of the eleven cocktails you can purchase for but just remember that the alcohol is not included. A quirky, fun purchase for a traveling friend.
4 – RFID-Blocking Travel Passport Holder
Check Price on Amazon
A passport holder is a great way to organize important documents when traveling. It's slim and lightweight and comes in a wide range of colors.
RFID block is a welcome addition and will stop scammers and thieves at airports using card readers to obtain valuable information. The holder comes with a snap closure for a tight seal, and plenty of space.
It's great for someone who likes to keep everyone organized while traveling.
Read more: Top Passport Holders and Wallets
5 – Tactical Pen Multi-Tool
Check Price on Amazon
With this multi-tool, the pen, quite literally, is mightier than the sword. Anyone who travels will tell you of the frustration of not traveling with certain items, only to then end up needing them at some point.
This multi-tool is a dynamic ballpoint pen that also includes a glass-breaker tip for emergencies.
On the other end, you have both a bottle opener and a flashlight built-in. Sporting so many practical uses, and vital for emergencies, it's a great little item to have on you during your travels.
6 – Travel-Size Laundry Bag
Check Price on Amazon
A gorgeous little laundry bag for the seasoned traveler. Made from soft polyester, the drawstring bag can hold up to 6.6 lbs of laundry, which equates to around 5-6 days of clothes.
The bag comes with a built-in pouch, so it can be folded up into a tiny square, and a carabineer to attach to another bag.
The gorgeous world map across the polyester fabric will draw the travel bug out of even the most infrequent of travelers.
It's a great addition to any traveler's luggage and the cutest of travel gifts.
Best Gifts for Frequent Travelers
If your recipient is a frequent traveler, you need to think a little more practical about matters.
Frequent travelers and digital nomads pride themselves on traveling with little luggage, so novelty items are simply not going to make the grade.
Solving paint points, or giving them a little reminder of home, is the best way to approach gift finding. My picks should give you plenty of inspiration.
7 – Portable Luggage Scale
Check Price on Amazon
An ingenious little tool that frequent travelers will wish they'd had since the moment they started traveling. The portable luggage scale you simply grip between your fingers, attach to the luggage in question, and gently lift.
The LCD display will give you the weight in lbs or kg, up to a max capacity of 110lbs/50kg.
Quite simply, with this little gem, your gift-receiver will never need to worry about overweight baggage fees at airports ever again. It's also lightweight, durable, and will fit easily into a carry-on.
8 – Cable Organizer
Check Price on Amazon
With all the tech people travel with, a durable organizer could be the perfect gift to solve their tangled wire problems in their rucksack.
Made from heavy-duty, water-repellent nylon, the case, at 6.3" x 9.5", has plenty of room to store a wide range of cables, wires, and adapters, while itself not taking up too much room in your luggage.
Inside, you get four small pockets, two medium pockets, two large zipped pockets, six straps, and three small slots for SIMs and memory cards.
For photographers, videographers, and anyone that travels with phones and tablets, just the mere sight of this case will quell their wire-tangled rage.
9 – Airplane Footrest
Check Price on Amazon
A great little piece of engineering that any long-haul flyer will gladly accept with open arms. All they have to do is hang the hammock from the tray table in front of them, and place their legs or feet inside.
The memory foam helps keep legs and feet soft and comfortable, while the elevation allows them to move their legs and feet.
Excellent at preventing stiffness, lower back pain, and leg swelling, it's a great gift to give any frequent flyer whom you know suffers on long-haul flights.
10 – Travel Adapter
Check Price on Amazon
Covering more than 150 countries worldwide, Dandelion's travel adapter is a thoughtful and practical gift to give any frequent traveler.
With an 8-hole socket and two USB ports, the ability to charge up to three devices at a time is enough to get any seasoned nomad purring.
It comes with its only little zipped pouch, and does away with the nobs and levers of other adapters, instead employing a rotating face to select the desired plug type. Simple but incredibly effective.
11 – Mini Tripod
Check Price on Amazon
No doubt your frequent flyer friends have already got themselves a high-end camera, and are busy snapping all the wonderful places they go to.
Manfrotto's mini tripod, lightweight at 215g and only 18cm in length, would be the perfect accompaniment for their camera.
With 360 degrees panoramic rotation, 35 degrees plus and minus lateral tilt, and a comfortable handgrip if they want to take photos on the go, this little piece of Italian pocket dynamite packs an incredibly versatile punch for its size.
Read more: Top Travel Photography Accessories and Gadgets
12 – Laptop Backpack
Check Price on Amazon
For frequent travelers, functionality more often than not trumps style. Traveling with so many devices can get problematic when you need to keep them charged all the time. Feskin's vintage laptop backpack solves just those problems.
It comes equipped with an external USB port and set-in cable, giving you an extra way to charge a device.
In addition, the external headphone jack and set-in cable allow you to connect a set of earbuds or headphones, and listen to music while keeping other devices free.
The backpack is also incredibly durable. It's made from high-quality 600D nylon, weighs a lightweight 1.63lbs, and has a total of six compartments.
A laptop of up to 15.6" will fit snuggly inside, and you have plenty of room for many other items. Compact, durable, and those extra functions would make it a great gift for a frequent traveler.
Best Gifts for Business Travelers
Need a gift for someone who constantly travels globally for work? Even more so than frequent travelers, business travelers need products that are going to compliment their 'on-the-go' lifestyle and make it easier.
No one wants a torrid eleven flight to ruin their performance at a thousand-attendee marketing conference.
Have a look at some of these gift ideas that would make any business traveler smile.
13 – Travel Mug
Check Price on Amazon
Many business travelers will travel with their own coffee and beverages. Yeti's travel mug is a great way for them to enjoy their favorite beverages without a wince-inducing temperature change.
The lid is magnetic, so the seal is tight, keeping the liquid safe inside. Its double-wall insulated, stainless steel body will keep the liquid inside piping hot or gasp-inducing cold.
And at 7" high and with a diameter of 3 1/2", there's room for plenty of liquid. It comes in a range of colors and fits snuggly into any rucksack or carry-on.
14 – Sleep Eye Mask with Built-in Bluetooth Headset
Check Price on Amazon
An innovative little sleep mask from Topoint, this eye-mask with built-in Bluetooth headset will have even the most agitated of flyers calm and sleepy within a few minutes.
Using bending cartilage, they've designed a sleep mask that molds expertly to your face and feels incredibly soft against the skin.
The built-in speakers allow you to connect a device and listen to music. Not accessible on all flights, but great in hotel rooms.
The built-in mic would also allow you to take calls, if you're not mid-flight and relaxing in a hotel room.
With up to nine hours of battery charge, you'd be able to make it through the majority of a long haul flight and get a good eight hours of sleep. Highly regarded and very comfortable.
15 – Pocket Portable Charger
Check Price on Amazon
Any business traveler will stress the importance of keeping all your devices alive, particularly during a flight. Anker's portable charger packs an almighty charging punch while remaining lightweight.
With two USB ports, you can have up to two devices charging at a time, depending on their output.
It can be a total lifesaver for people who find themselves without power for hours at a time.
16 -Anti-theft Laptop Backpack
Check Price on Amazon
Business travelers also travel with incredibly important laptops and devices. If they get stolen, they can be set back weeks in lost time.
Put their mind at ease with Tzowla's expertly designed travel laptop backpack. Equipped with fixed password lock and strong metal zippers, it'll keep pickpockets at bay in any surrounding.
It comes with both a built-in USB charging port (keep in mind, you will need a separate battery bank) and headphone jack, and multiple divider pockets.
At 19.29" x 11.8" x 5.43 in size, you'll have no trouble storing a multitude of electronic devices inside. For anyone who's worried about theft, it's the perfect, practical gift.
17 – Zippered Portfolio Organizer
Check Price on Amazon
A serial organizer's dream, this zippered portfolio organizer houses thirteen padded pockets to store everything from business cards to brochures.
Its slimline design and dual zipper make it accessible and compact, while it's spacious 13.5" x 10.5" x 1.7" allows for a range of large documents to be stored with ease.
It also comes in an elegantly designed black box and is made of premium leather. Will make any business traveler look the part.
18 – Travel Steamer for Clothes
Check Price on Amazon
No one wants to turn up to a conference or pitch with creased shirts and suits. Yet, for many who travel, folding your delicate business attire into a small carry-on alone is enough to induce a cold sweat.
A travel steamer is an inventive, great gift to give in such a case. You simply plug it in, fill it with water from a tap or kettle, and let the steaming do the rest.
Will straighten out hanging creased suits, shirts, and trousers, with up to 15 minutes of continuous steam. Very lightweight, too, and can fit nicely into a carry-on.
Best Gifts for Male Travelers
Despite the fact pretty much all the items on this list are unisex, if you are looking for gift ideas for specifically male travelers, the following products are marketed to align more so with a male audience.
19 – Hanging Toiletry Bag
Check Price on Amazon
A gorgeous, luxurious toiletries bag, Vetelli's hanging toiletries bag stands out from the crowd.
Composed of high-end PU leather, it's easy to wipe down and water-resistant, which is always great for a bag that stays in a bathroom.
With four internal pockets and two zipped pockets, there's ample room to hold a wide range of toiletries and men's grooming products.
Gorgeous to look at, but also very practical. The leather straps help keep everything in place when on the move.
20 – Money Clip Wallet with RFID Block
Check Price on Amazon
Great if your male recipient is traveling to cash-economy countries, Travando's money clip wallet is easy on the eye and slim in the pocket.
It comes with RFID block technology, so it will keep your credit cards safe from scammers.
The money clip, and six credit card compartments, allow for organized storage without much bulge.
Fusing premium faux leather with stainless steel, it's a sleek, stylish wallet that's loaded with a great deal of functionality.
21 – Beard Care Grooming Kit
Check Price on Amazon
If your male traveler recipient is a passionate beard sporter, a beard grooming kit is an excellent way for them to keep their beard groomed and smooth while they travel.
Alpha Vikings preach for full, healthy beards. Their kit, which fits snuggly into a green case with leather pouches, comes with a complete grooming kit.
Inside, you get a beard comb, shaper, stainless steel scissors, maple wood brush with 100% boar bristles, and an apron.
The compact canvas bag will fit nicely into a carry-on, and its the perfect way for a man to keep his beard in check away from his favorite barbers.
22 – Multitool Card
Check Price on Amazon
How does 46 tools all in one compact credit-card-sized sheet sound? This impressive multitool is a great gift for any male traveler who's venturing out into the wild.
Drawn into unison by the gorgeous design, you get an impressive array of functions.
The card, as the image shows, does a wide range of things. These include a bottle opener, can opener, screwdriver, and cell phone stand. And the best of all, it slips effortlessly into a wallet or bag.
23 – Travel Backpack
Check Price on Amazon
A great backpack for a male traveler, the Witzman Vintage boats some impressive numbers.
At 21", it is incredibly spacious and would be more than capable of acting as a carry-on for a week or two's worth of travel, depending on how much clothing you take.
Fusing premium cotton canvas with PU leather, in brown, it's an impressive backpack to have over your shoulders.
Its defining feature is the backstrap that allows you to switch from a rucksack to a canvas bag.
Either you carry it on your hands, on with one hand with its side handle — stylish, well-designed, and very durable.
24 – Travel Electric Razor
Check Price on Amazon
Shaving is always a frustrating issue for male travelers to deal with. Thankfully, Phillips has brought a quality electric razor to the market that could be the perfect give for a well-groomed male traveler.
It's battery-operated, so you don't need to worry about those high-voltage sockets blowing the fuse within moments of you turning it on.
With two AA batteries, you get up to sixty minutes of cordless shave, and its rotary blade prevents soreness and abrasion on the skin.
This travel gift is a welcome relief for any male traveler who shudders at the thought of disposable razors.
Best Gifts for Female Travelers
As mentioned earlier, although nearly all of the items on this list are unisex, if you are looking for gift ideas for specifically female travelers, the following products are marketed to align more so with a female audience.
25 – Travel Jewellery Organizer
Check Price on Amazon
Traveling with jewelry can always be problematic, particularly if the jewelry is expensive or has great sentimental value.
First Avenue's organizer case, designed especially for travel, is a great gift for any female who wants to travel but is worried about the safety of her jewelry.
Composed of soft velvet lining, you get one large zipper pocket, two ring rolls, four necklace clips, and two smaller zip pockets. There's ample room to keep even your most precious of jewelry organized and safe.
Complete with a dazzling glimmer fabric and magnetic snap closure, the case is a luxurious item for the high-end female traveler.
And it comes packaged with a black box, for extra security, if needs be while traveling.
26 – Vintage Travel Backpack
Check Price on Amazon
If your female gift receiver is looking to travel with elegance, then Goodhan's vintage backpack is a great gift choice for them.
Adorned with a beautiful, vibrant floral design, the bag has all the hallmarks of a hand-crafted gift, while serving a multitude of purposes.
At 11.4" x 9" x 5", you have a good amount of room to keep several electronic devices inside, including a laptop.
The embroidery is flawless, and the straps are easily adjusted, meaning you can wear the bag as high or low as you like.
A great way to help a female traveler look and feel fantastic while keeping her items inside safe and snug.
27 – Inflatable Travel Pillow
Check Price on Amazon
Got a female travel friend who loves to travel but struggles to sleep comfortably on long haul flights? Let FengNiao and their awesome travel pillow come to the rescue.
Although it looks big, it actually inflates and deflates using an air valve. This way, you can pack it up deflated into its cute little drawstring back before boarding, and only inflate it once you're in the air.
The 45-degree angle of the cushion allows you to rest your neck fully, and the armholes let you get into a very comfortable sleeping position.
A smartly designed travel pillow that can be used at home and at work, not just on planes.
28 – Leakproof Travel Bottles
Check Price on Amazon
For a female traveler that likes to travel with her makeup, Niolio has a neat little bottle selection that solves the problem.
Awash with a soothing array of cool pastel colors, the containers all meet carry-on liquid restrictions, so you'll not need to worry about having your expensive perfume and makeup confiscated.
Made from flexible food-grade silicone, the bottles are leak-proof sealed, super compression-resistant, and very lightweight — a great set to aid a female traveler.
29 – Wine Tote Bag with Stainless Steel Glasses
Check Price on Amazon
Anyone who travels to great wine countries will know the pain of traveling with wine bottles, nervous that they'll get damaged or break in their luggage. Cue the wine tote bag by One Savvy Girl.
Small and compact, you've got room to carry two bottles of wine. There's also an outside pouch to carry loose items, such as keys or a purse.
The inside is heavily padded, meaning you shouldn't have any issues with the bottles breaking against the side or against each other.
Placed inside luggage, you've got the perfect barrier to keep your delicious wine safe while you travel.
The bag also comes with two beautiful stainless steel glasses, which are perfect for drinking wine at picnics or outdoor locations — one for the wine lovers.
30 – Vintage Writing Journal
Check Price on Amazon
If your female traveler recipient likes to journal, then Valery's vintage writing journal would be a perfect gift for them to take on their travels with them.
Made from a smooth, gorgeous feeling PU faux leather, inside you have 192 pages of thick, quality paper to scribble, draw, and jot until your heart is content.
It also has a pen holder and inside pockets to store some small items. At A5 size, it'll slip nicely into purses and backpacks, and the tree of life print on the front complements the leather beautifully.
I personally love the brown, but it also comes in a range of colors.
Best Unique Gifts for Travelers
Our last stop on our list of gift ideas for travelers takes us to some truly unique and memorable products.
If you know the person you're buying for loves more than a little novelty, then look no further than these top picks.
31 – Camera Lens Coffee Mug
Check Price on Amazon
Great fun for a friend or family member who travels and loves photography.
The Strata camera lens coffee mug has a fantastic screw-on lid, meaning you won't have to worry about any spillage when you're on the move with your coffee.
Its stainless steel lining helps keep your liquids hot, while the ABS plastic keeps your hands cool and burn-free.
The camera lens design makes for some fantastic conversation starters, and with room for up to 13.5floz of delicious coffee, your trusted caffeinated drink will always be hot and waiting by your side.
32 – Keychain Bottle Opener and iPhone Charger
Check Price on Amazon
For seasoned travelers, multi-function products are always looked upon desirably. Anything that can save space while remaining practical on several levels, more often than not, makes the cut when it comes to packing.
Step forward i-Dawn's neat little keychain. This shiny little gadget is an iPhone charger, keychain, and bottle opener, all in one. With an additional carabiner, it can also be easily connected to any bag or rucksack strap, for good measure.
Miniature, lightweight, and great to have on you for those moments your phone battery is going low, you're looking forward to sipping on a crisp beer, or you need to keep your keys all in one place.
33 – Light Travel Pillow
Check Price on Amazon
With its fun, unique design and gorgeous textured exterior, Ostrich's travel pillow is a great unique gift for any traveler that struggles to sleep on planes and public transport.
Wearable over the head or around the neck, its innovative design allows the user to position themselves in a sleeping position that works for them.
Its made from a soft, delicate fusion of viscose and elastomer, and filled with coated microbeads.
This makes the pillow breathtakingly soft and gentle on the skin, while also being able to support the weight of the head.
It's versatile and very compact to travel with. You may look like a little like Robocop when wearing it, but that's definitely part of the fun!
34 – Breakfast Sandwich Maker
Check Price on Amazon
Know some who travels but still loves to fill their bellies up every morning with a hearty breakfast?
If so, Hamilton's beach breakfast sandwich maker is the dream product to add to their luggage before they set off for exotic lands.
The compact three-layer system allows your hungry traveler recipient to add plenty of different foods to their sandwich.
You simply add bread and cooked meats or cheese to the bottom layer, egg in the center, bread at the top, and pull down for some serious toasting.
It cooks in just five minutes, and once you're done, you can slide out the sandwich with the slidable plate and chow down on your morning masterpiece.
Great for a hearty little slice of home, no matter how far away the user finds themselves in the world.
35 – Neck Massage Pillow
Check Price on Amazon
Now here's a unique travel gift that will ease the tension from the shoulders of even the most stressed of travelers.
The pillow, which is strapped to the back of a chair, consists of 3D rotating massage nodes that help dig into those tight muscles and really loosen them up.
Its simple to set up, and comes with an awesome hand control remote so that you can change the settings and intensity of the massage at your own leisure.
An excellent unique gift for a traveler known to struggle in countries where the beds and chairs are less comfortable.
It can also be used on other body parts, such as lower back, calves, and thighs. Even looking at it instills a sense of calm and relaxation from within!
36 – Personalized Passport Holder
Check Price on Amazon
Our last, but certainly not least, unique travel gift on the list is the perfect personalized gift to give to a beloved travel friend or family member.
Courtesy of United Craft Supplies, their gorgeous passport holders, made from scratch-resistant faux leather, can be customized.
They have a range of designs to choose from, and both the quote and the name can be customized.
The holder has a smooth texture and comes in a range of colors. Their a delightful little item to behold, and the laser engraved quote and name allow you to create a product that's perfect for your recipient.
It'll accompany them all over the world, so why not add a little customization to proceedings?
Best Gifts and Gift Ideas for Travelers Summary
Whoever you're shopping for, whether they be frequent travelers, business travelers, male, or female, our list of 36 gift ideas should give you plenty of ideas for a fun, practical, and memorable.
If you're shopping gift ideas for travelers for Christmas, birthdays, or any time of the year, there's something for everyone on this list.
You Might Also Like to Read
Save and Pin for Later
Are you looking for inspiration for travel gifts? Pin this article to one of your Pinterest boards, ready for when you'd like to start looking for gifts for travelers and beloved friends and family.
---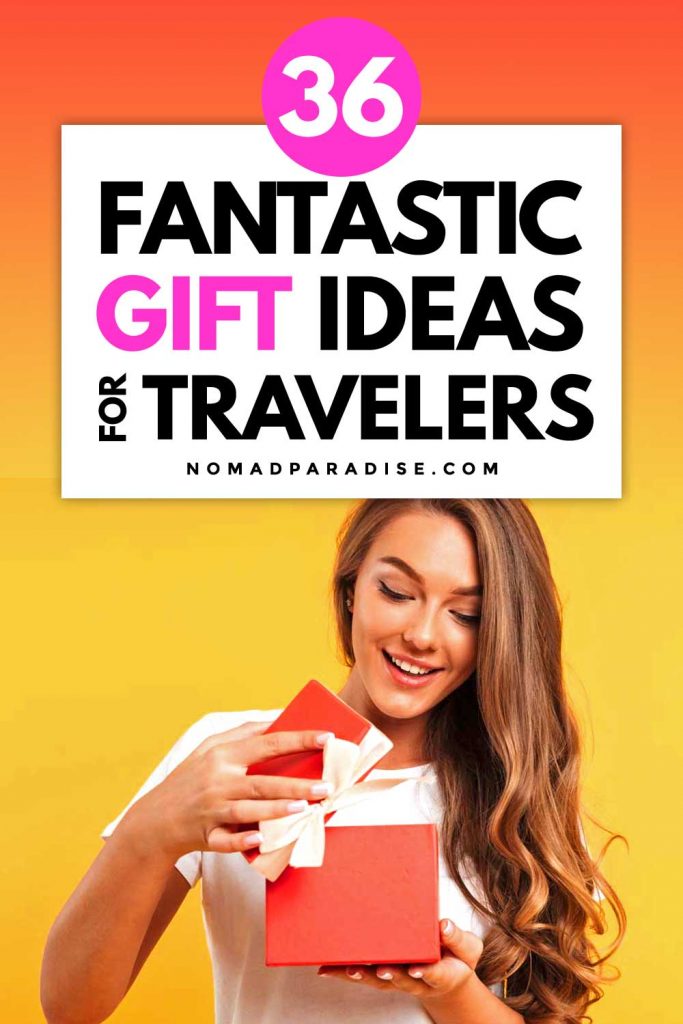 ---
Author: Dale Johnson is a content writer, creator, and full-time digital nomad as of 2016. He is passionate about the newest and latest travel tech and gear and is constantly improving his nomadic setup and gear.
Non-product images licensed via Shutterstock